Hi Everyone. This week I decided to make my 3 year old a peasant dress for a birthday party. I wanted to glam up this easy pattern by adding some shiny gold rick rack to make the standard pattern a bit more elegant. I also decided to draft my own peasant dress pattern to ensure the dress fits to size. My 3 year old is in between sizes at the moment so she doesn't quite fit in 3T but still a bit too small for 4T patterns. This pattern as is the perfect 3T/4T pattern. If you scale it up about 10%, it will work for a normal 4T pattern. In drafting my own pattern, I followed this super awesome tutorial from Simple Simon and Company. However, if you want to use the one I have, you can download it below. This dress is similar to other popular peasant dresses online. I did a nightgown for a while back in 4T and a baby dress in 9 months about a year ago. The main fabric used for this dress is Jay-Cyn designs Eiko Bird Blossom is Shroom from Fabricworm.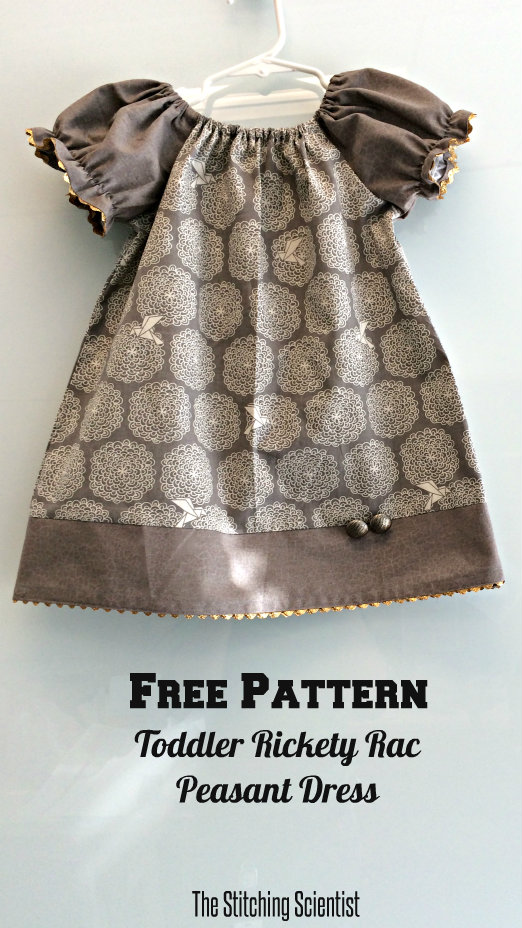 I love puff sleeves on little girls. They just look so much "girlier" and elegant than putting an elastic or just hemming. Accented with some shiny rick rack, the sleeves really stand out on this dress.
For the bottom, I did a contrasting band with some matching buttons on the side. Again, the rick rack on the bottom really brings out the fabric and adds an elegant touch to the pattern. I have honestly never worked with gold rick rack before so this was fun!
I like the simplicity of the pattern and the fabric. Not everything has to be pink and filled with tulle for little girls in my opinion.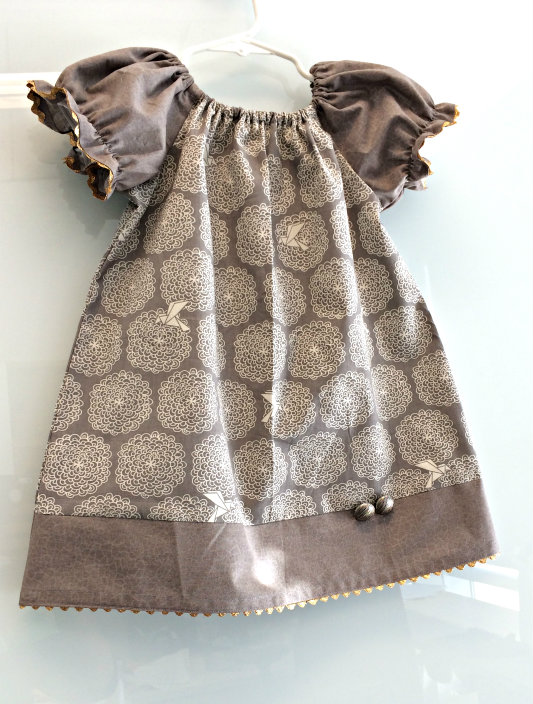 Your Supplies
3/4 yard main fabric
1/2 yard contrasting fabric
You can download the 3T/4T pattern HERE. This will open in Google Docs and prompt you to download the pattern in PDF using Adobe. If you are having a hard time downloading the pattern, email me and I will send you a PDF copy of it. If you want to draft your own pattern, please follow Simple Simon and Company tutorial.
Since this is the same dress as others I have done, I will refer to pictures from another post; the toddler nightgown.
Let's start