Hello Everyone! Do you normally do Valentine's day projects? With my busy schedule, I honestly don't have the time to decorate for holidays other than Christmas unless I find really cheap or easy DIY ideas. My daughter is really into Valentine's day so this year I decided to add some hearts to our normal decor. Here is super quick 20 minute DIY Valentine's Day Table Runner that my daughter and I did this past weekend. I used up some red fabric scraps I found in my sewing room and with my daughter's help, added some red decor to our plain white dining room.
I made hearts about 10″ wide so that I can make just about 6 for my 60″ dining room table. You can add or remove the number of hearts based on your table size. This is almost like a heart garland and can also be used to hand on a wall.
I like this easy method of crafting with fabric. See the letters I did for my daughter's name a while ago. Also the One-Minute Coasters uses the same instructions.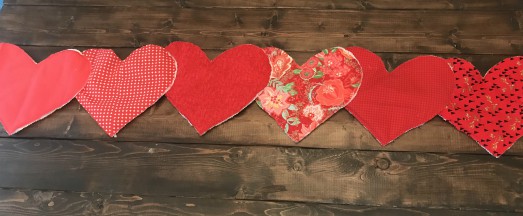 All I need now are some nice glassware filled with some candy to go on the table and our living room would be all "loved" out. By the way, the last heart is made from Christmas scrap fabric:-)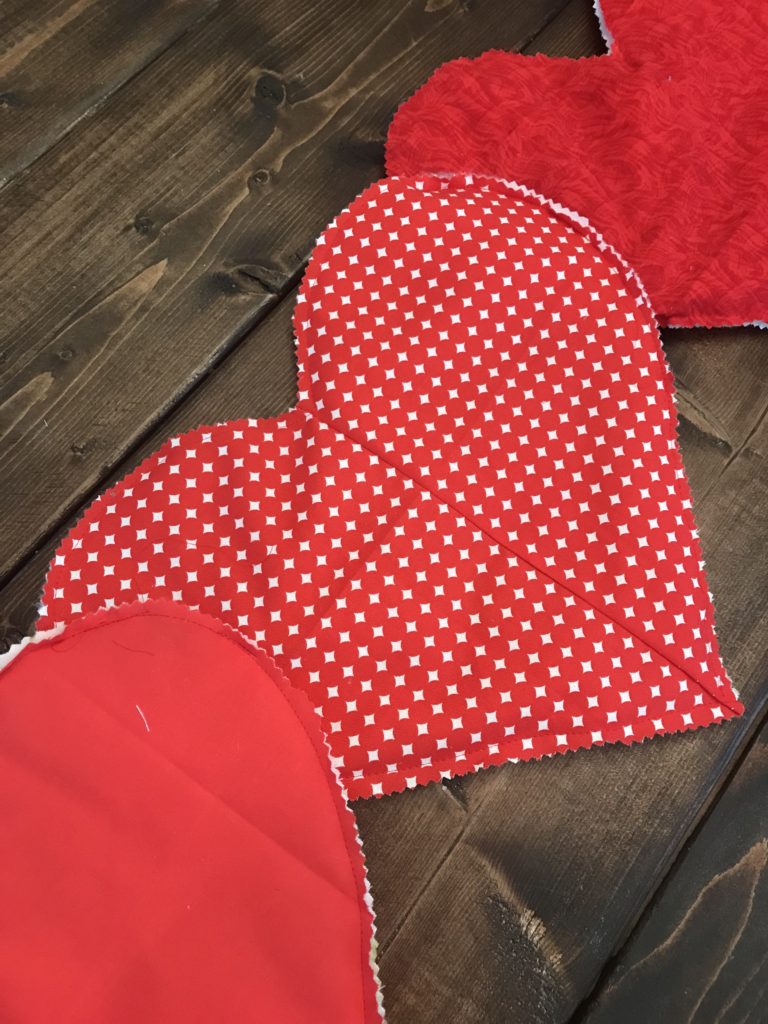 If you have extra time, which is never the case with my life, quilting these hearts would make this runner even more stunning! Maybe I will actually do it if we ever get a snow day this year. Nothing says Valentine's day more than red quilted hearts in the house.
Supplies
6 pieces of 10×10″ fabric squares for front of hearts
6 pieces of 10×10″ fabric squares for back of hearts
6 pieces of 10×10″ fabric squares of batting
Pinking shears
Heart template
Step 1-Cut
Cut out all hearts using the heart template. You will have 6 hearts for the front, 6 for the back and 6 batting.

Step 2-Sew hearts
Sandwich each heart with back heart wrong side facing up, then batting, then front heart, right side facing up. Sew about 1″ from the edge all the way around the hearts.

Step 3- Cut with Pinking Shears
Cut all the around the hearts (don't cut the sew line) with pinking shears.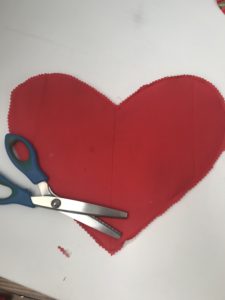 Step 4-Assemble all hearts
Sew the hears together by layering one over the other and sewing the area where the hearts overlap. You can overlap about 3 inches and sewing 2 hearts together at a time.

That's it, you are done. Add a nice glass jar with some red candy treats and your dining room is ready for all the love on Valentine's Day.
Thanks for visiting and Happy Sewing