It's beginning to look a lot like spring which means it's time to start sewing some dresses! One of my 2016 sewing goals is to start sewing more items for myself. I am starting with a spring dress. This is my first Colette Patterns Peony Dress review and I am in love. I still consider myself a beginner when it comes to sewing. There is a lot I have to learn. I am a work in progress. So, as a beginner I usually stick with easy sewing projects. Usually dresses are a bit intimidating for me because of zippers and sleeves, so I normally stay away. Take it from me when I say that this Peony dress was truly a beginner project! It was extremely easy to put together. The instructions and layout was fool proof. The only thing I had to Google on how to do was attaching the invisible zipper. But other than that, it was an easy peasy type of dress to whip up in under 2 hours.
I decided to do version 2 of the pattern which is the one with the short sleeves and no pockets. Again, I chose this because it seemed easier than the version 1. Next time, I am definitely going for version 1 because I think the short sleeves are bit too short for my liking and the pockets doesn't seem too intimidating now that I have mastered version 2.
The fabric used for this dress is Cotton + Steel Paper Bandana Alexia Abegg Paint Dot Fabric. I got 3 yards to make the dress but version 2 only took about 2+ yards. I have extra fabric to make something for my daughter.
Version 2 does call for a fabric belt which is included in the pattern but I really thought the dress looked better without it so I opted out for the belt. If I do need a belt in the future, I may try adding one from my closet. Maybe a black or purple belt will work as a good accessory piece. I also did the empire waist option to have it more full around the tummy area.
So, there it is! If you are a beginner like me and want to take a stab at a dress, this is the one for you. This is a really versatile pattern that can be paired with a blazer or open cardigan for a work look or just wear as is for a night out. This is definitely a keeper.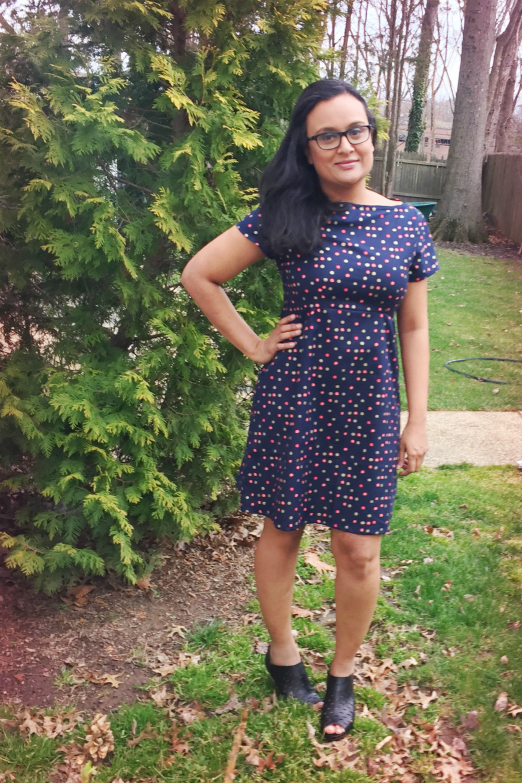 Pattern: Colette Patterns Peony Dress
Fabric 3 yards: Cotton + Steel Paint Dot
Zipper- 22″ Invisible.
Thank you and Happy Sewing!