Hey All! Are you guys enjoying winter? We have been getting slammed with snow in the Midwest and loving it. Both my daughter and my dog enjoy playing in it so no complaints here. I recently bought 2 yards of this Cotton and Steel  August Mezzanine Fabric from Craftsy. It was on sale so I could not resist. I have been stretching my 2 yards to last a while, so you will be seeing a few projects featuring this fabric. I just love the pattern and the colors. They all just go well together. It's definitely one of my favorite from Cotton and Steel.
For the first project, I decided to make a jumbo flip flap messenger bag to take to farmers market, the library or just out and about the town. I just love how it turned out. It's about 15″ long about 12″ wide. The flap comes all the way down which is perfect for the hippy look I was going for.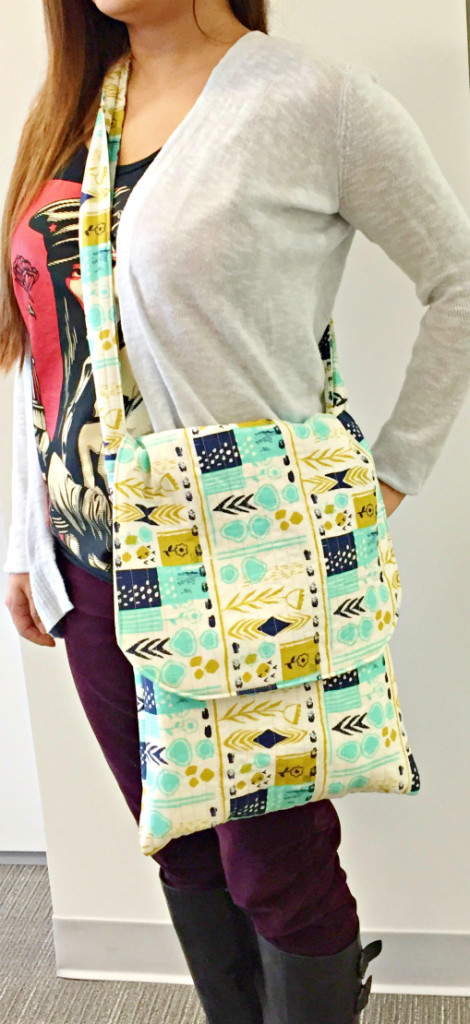 This will look do cute with some skinny jeans and black booties. You are bound to get some compliments with any project you make with this fabric.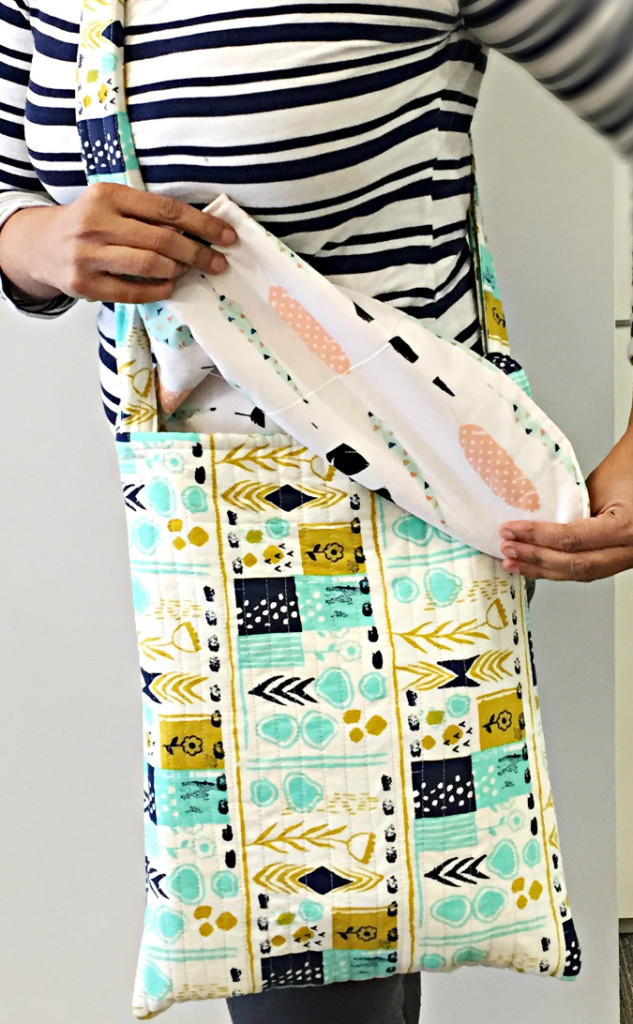 I decided to line it with my lovely mint and coral feather fabric I found at Hobby Lobby. I did decide to put a pocket inside but forgot to take a picture.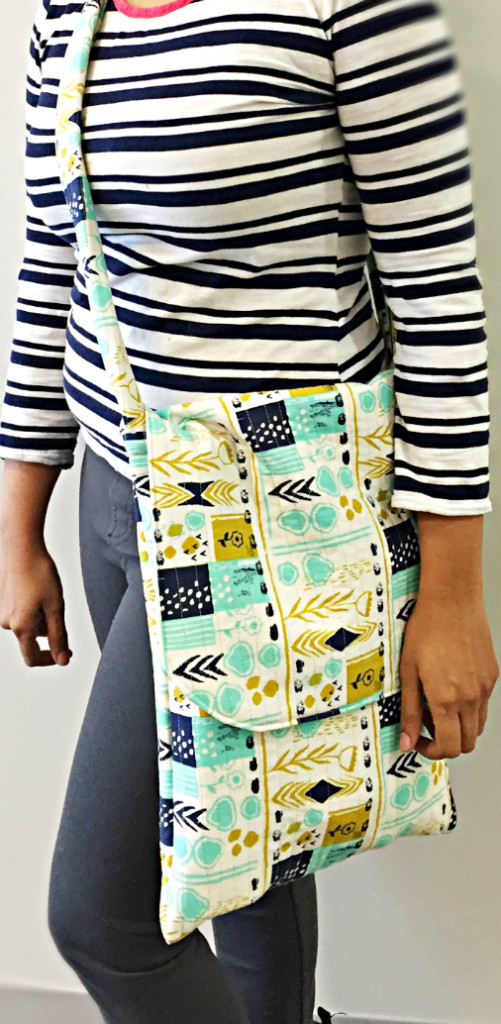 Well, here we go. Let's make this baby.
Your Supplies:
1/2 yard outer fabric
1/2 yard lining
1/2 yard batting
Measure: Cut each batting and outer fabric at 15″ wide x 34″ long. Cut lining piece 2″ shorter…15″ x 32″
Next, lay your batting on the wrong side of your outer piece and quilt 1″ rows all through the fabric. It's ok if its not all straight and pretty. It will still look good in the end.
Next, let's make a pocket. Cut about 10″ x 20″ square. Fold in all the edges in about 1/4″ in and then another 1/4″ so it's all hidden. Top stitch it about 15″ from the top of the lining piece. (So sorry these pics are horrible)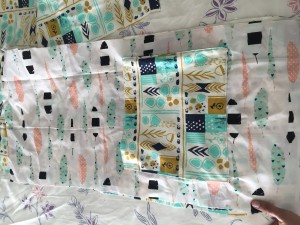 Now, take your lining piece with the pocket and lay it to your "just created" quilting piece and sew right sides together. Cut out arcs on the edges. This optional and you should only do it if you want the flap to be curved.
Sew all the way around. Remember your lining is a bit shorter than your outer piece so don't sew the bottom part where the two pieces does not line up. Leave that open.  Turn inside out. Fold over the outer piece twice over the lining and sew down to cover the raw edge of the lining.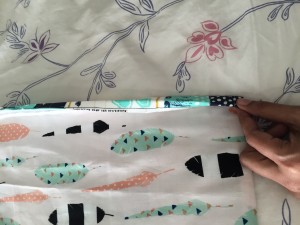 Next, fold the back about 17″ up from the bottom right sides together and sew the sides closed up to about 17″. You can go as high as you want if you want shorter flaps. If you only going up about 17″ and your flap piece will be about 13″ which is what mine is.
Now turn it inside out and you almost have a bag! Let's make the straps. Mine is about 36″ long but measure how long you want yours to be. I did mine  3″ x 36″ long. Cut two pieces of fabric and 1 piece interfacing or batting. Sew right sides together. Turn inside out. Quilt about 1/2″ apart.
To attach it to the bag, you will fold the ends in about 1/2″ twice. Sew it to the intersection of where the flap meets the body of the bag. You can sew it on the lining side so that when you fold the flap, it goes over the straps.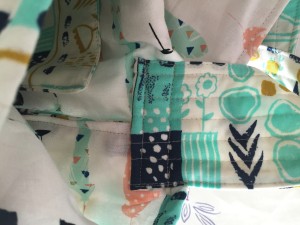 That's it enjoy!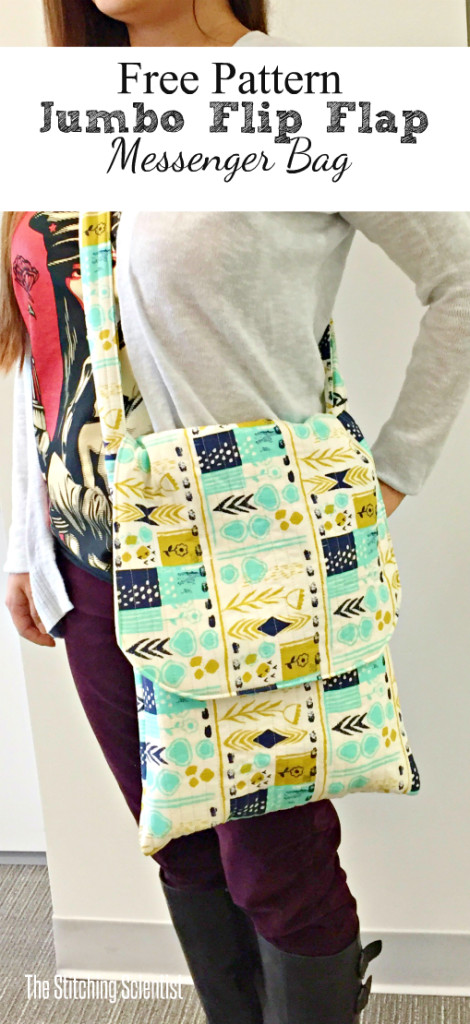 Thanks for visiting and Happy Sewing!