Heart day is approaching! Can you believe how time flies? I always wanted a heart quilt to hang up in my living room. So, I decided to tackle this easy pattern. This charm pack wall hanging heart quilt only requires 2 charm packs (42 5′ squares) of whatever colors you choose and 2 white fabric charm packs. It is so easy to create, you will want to do a few as gifts. I decided to go with Moda's Beach House charm pack for this quilt and some scraps I had in my sewing room. I really wanted a rainbow heart and though the Beach House set was a perfect fit since it has all the colors of the rainbow. This pattern is not unique by any means. There are tons on Pinterest. However, I could not find one with charm packs that matched my wall size hanging measurements. This was turned out so beautiful. I am in love with it.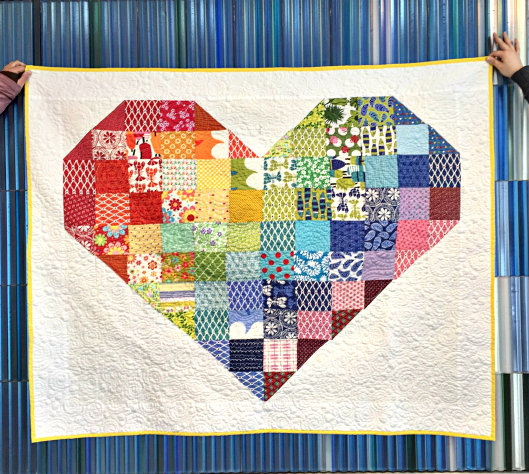 The finished quilt turned out to be about 50″x 60″ which is the perfect size to fit over a couch in my living room. Now, I just need to get a rod installed and hang this baby up!
The quilting for this pretty piece was done by the ever so talented Melissa from Sew Shabby Quilting. Such stunning work. I just dropped it off and told her to create a nice pattern and this is what I got… I couldn't be happier.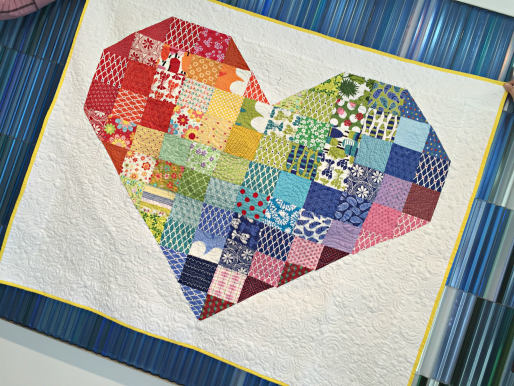 Here is the FREE PATTERN. I hope you guys have fun doing this one. Please share your pictures if you make one. I would love to see it.
Thanks for visiting and Happy Sewing!