I don't know about you guys but during the year, I go from periods where I don't sew at all and then to periods where I sew everyday. This year, I have been into quilts. This is the last one I am doing for a few months. I made it for my boyfriend as a present and he absolutely loves it so I thought I would share the pattern with you guys. Its a simple pattern I drafted on PatternJam. You should try out that software if you haven't done so already. I used the a layer cake from the Daysail fabric line paired with navy blue yardage to make it  masculine and contrasting. I am calling this pattern Square Wheel because it has a giant square in the middle and pinwheels all around it. Not that creative, right? Haha. Hope you guys enjoy the Square Wheel Free Quilt Pattern.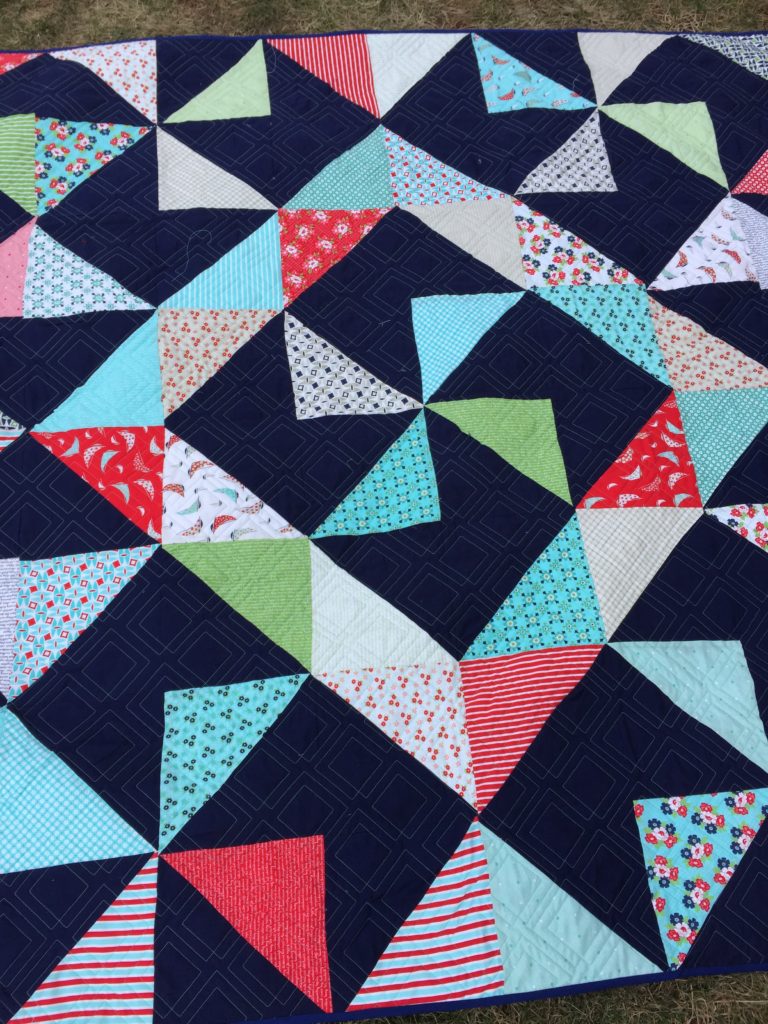 The quilt measures 80″ x 80″ so it is super large.The long arm quilting pattern used is the diagonal pattern from Sew Shabby Quilting. I love it! She used blue tread which ended up matching perfectly with the colors of the top.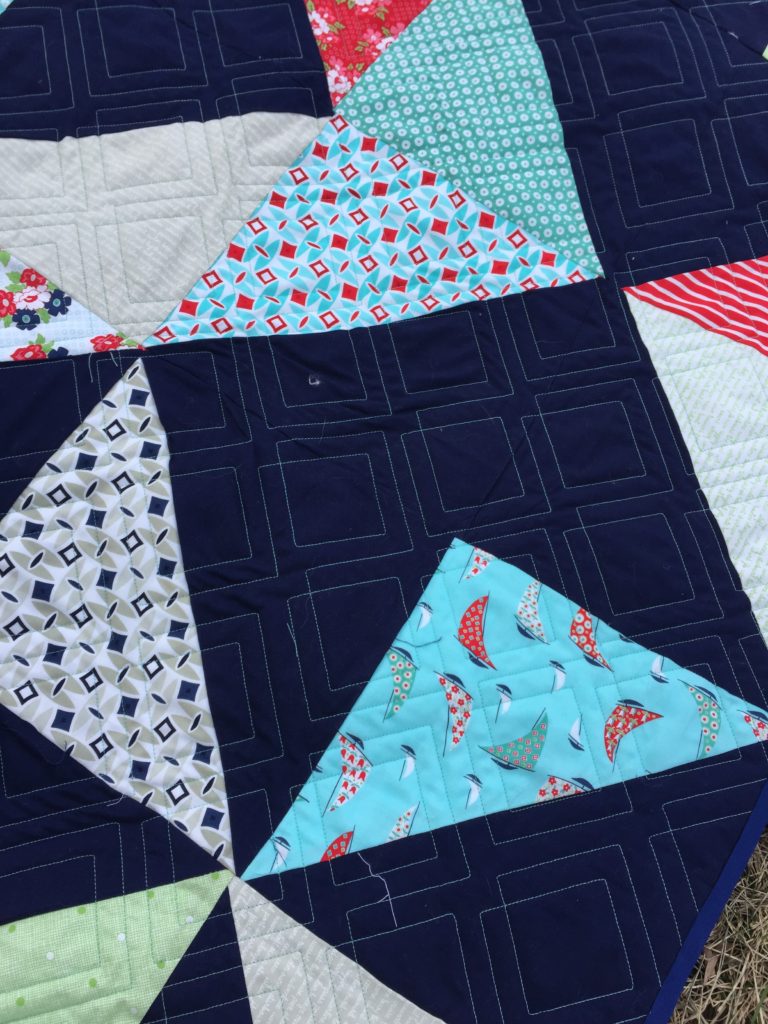 I used a queen size flat sheet for the back. It was way cheaper than buying yardage. For the binding, I just did a bright navy blue to accent the blues in the Daysail line. As you can see the top was not sewn perfectly. I pretty much thew it together in about 2 hours on evening after work. The entire quilt top ended up costing about $50 including the navy fabric yardage and the layer cake. I only buy fabric when its on sale or if I have a coupon.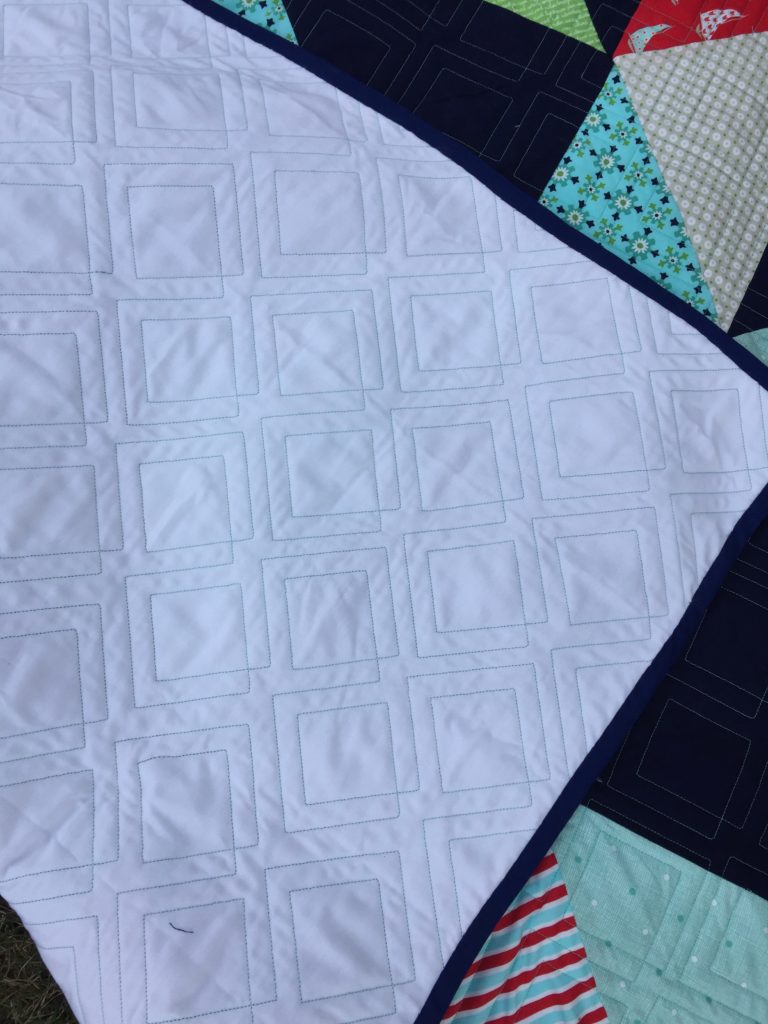 Update, this pattern was lost after original post and blog changes. I cannot locate in my files! I looked online and found a very similar one that you can use to get similar pattern. You can follow this HST Tutorial if you don't already know how to sew them.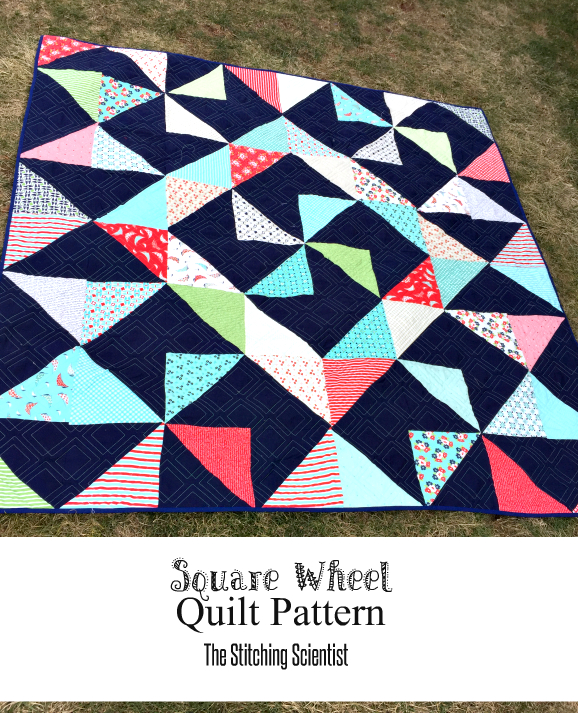 Thanks for visiting and Happy Sewing!