Hope everyone is enjoying their summer so far! As you know, I am really into DIY projects. In my old historic house, I have a fireplace. It is not the most beautiful space and definitely need something eye catching to spice it up a bit. This weekend I had an hour to spare and decided to use an old canvas I have been using for background for my sewing projects to do a DIY art project. This idea is certainly not original. It is all over the Pinterest. I got my inspiration from whiletheysnooze. Turquoise is my favorite color and I thought, what better way than to pair it with some metallic gold paint. The canvas was $12 (after my 50% coupon from Michaels) and the paint was $3.50. So, it cost under $20 to do. It was a fun DIY canvas art for my daughter and I to do together. What do you guys think?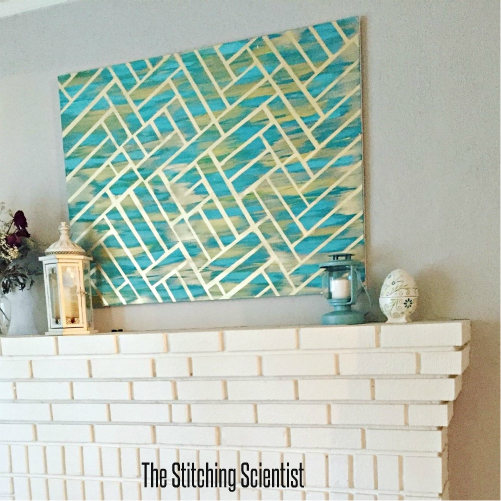 I don't think it belongs over the fireplace as it is a very bold piece. It will be either hated or loved. I may move it to another space in the house that is not so visible. I have to say, I like how the pattern turned out. It may make for a cool looking fabric pattern for a bag. Not sure about it, really.
Even though, I am not so sure about this painting and how it fits into our space, I really enjoyed doing it! Painting is instant gratification and unlike sewing, you can't go wrong. Whatever, you paint will be correct because it is your own interpretation. No seam ripping involved here:-)
This painting measures 30×40″, cost $20 for the materials and took about an hour to make. Here are a few clips of the process.
Ahhh…blank space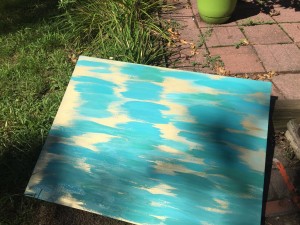 Go outside and go crazy with your paint colors. Be random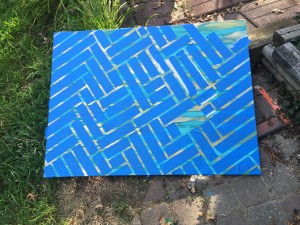 Cut out painters tape and make a random pattern; zig-zag, herringbone, or just plain craziness. Whatever comes to mind:-)
Get spraying with your metallic gold paint! Let this baby dry for about 20 minutes.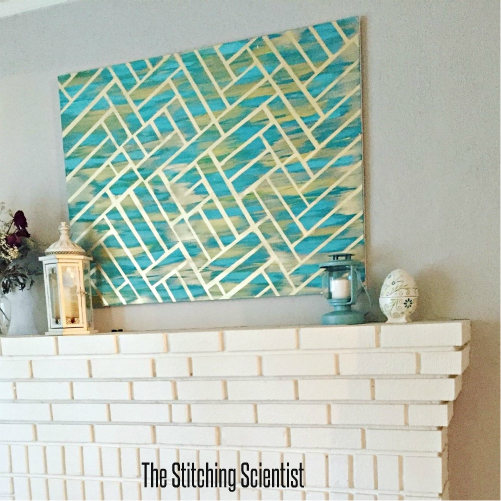 Brag to your friends or on your blog like I did:-)
Thanks for visiting,