Hey Guys! I have been taking a short break from my sewing machine recently to deal with life's happenings. Being a single working mother takes up so much of my time. I barely get any breaks to sew. A few weeks ago I got a few Cotton and Steel charm packs from The Fat Quarter Shop during one of their sale events and decide to make this contemporary table runner pattern. This Melody Miller Picnic fabric set from Cotton and Steel just works so well with a dinner theme. I love all the apples and the shopping bags on the green and blue backgrounds. Paired against a white contrast, I think it will look lovely in my kitchen.Hope you guys enjoy the Contemporary Table Runner Pattern!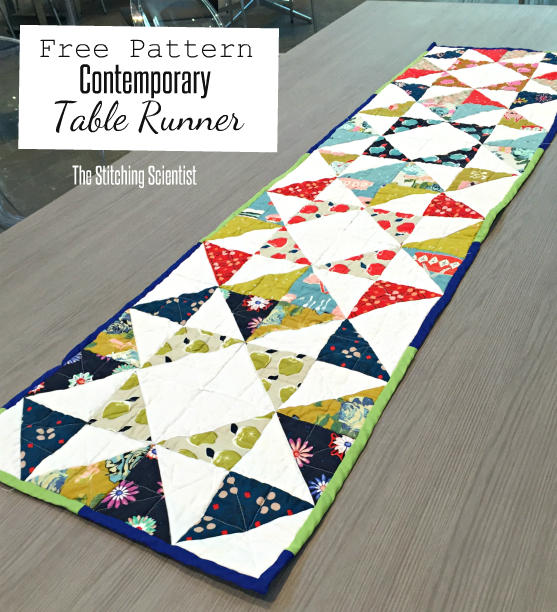 For this table runner, all you need is 2 charm packs that has 16 charms in each pack or one large charm pack. This Melody Miller Picnic charm came with 16 each for about $6 a pack. You will also need 1 charm pack or 40 squares of white fabric for the background. The dimensions came out to be about 64″ in length by 16″ wide.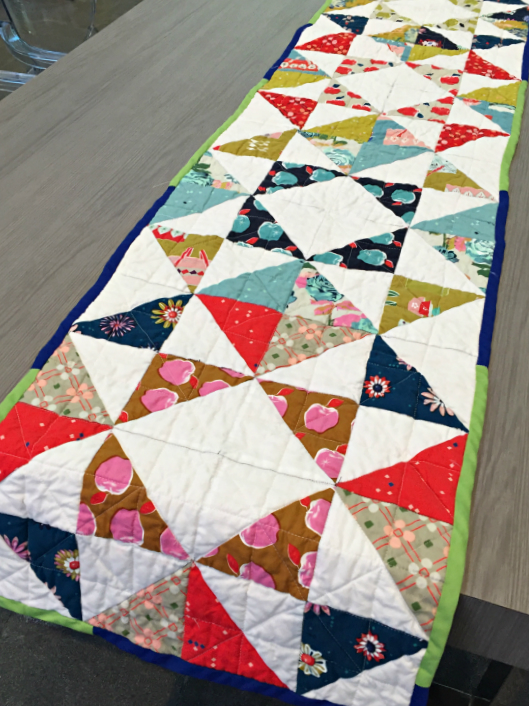 For this table runner, I actually just did the quilting myself on my machine. I did triangles all over which turned out pretty decent in my opinion. My machine doesn't do free motion quilting well so the standard straight stitches had to do. I am pleased with the end results.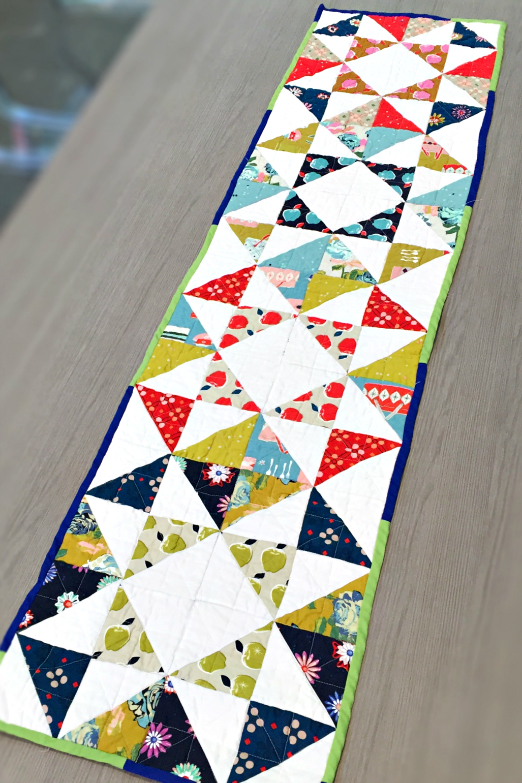 I love all the apples and contrasting colors in this quilt. So so pretty:-)
Your Supplies:
1 large charm pack with 40 5″ squares or two small charm packs with at least 32 squares
1 large charm pack with 40 5″ squares of white cotton
Backing and Batting- 70″ long x 20″ wide
Binding- 6.5 yards
>>>>>>You can follow the tutorial below or DOWNLOAD THE PATTERN AND TUTORIAL HERE.<<<<<<<
This is a standard half square triangle pattern. See this pillow for a similar method. Make sure you iron neatly as you go on each step.
Take one of your colored charm squares and face it right side together with one of your white charm squares. Draw a diagonal line with a pencil or an erasable pen. I used the Frixion Ball Erasable Black Pen on this project. Make 64 of these squares. Sew in the middle of that line using your 1/4″ sewing foot. Cut on the line.
Next, you will align your squares 4 in a row as shown below.
Continue the layout as depicted in the image below until you have 4 rows. Sew each row together.
Repeat the step above until you have 4 complete big squares of 4 rows each. Sew each large square together.
That's it, your top is completed.
To quilt the table runner, you can follow this tutorial I did for a Christmas Runner a few years ago.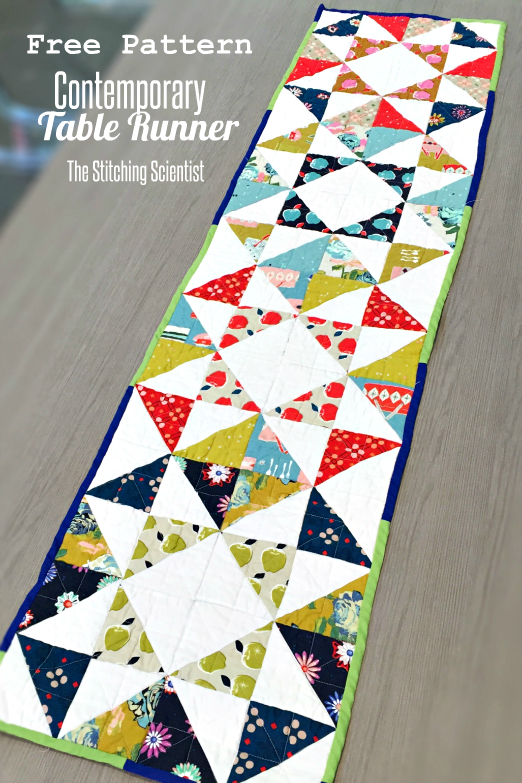 Thanks for visiting and Happy Sewing!