Hey Guys! It's starting to get cold now and although I hate it, I love sewing cold weather projects. Here is a beautiful baby quilt pattern that is super easy and fast to do as your next baby shower gift. This Dresden Window Pane baby quilt pattern uses the gorgeous Flutterberry line from Riley Blake Designs. Designed by Melly and Me, the line features fun girlish patterns with florals, berries and abstracts. You really can't get any cuter than this. I love each and every one of the patterns and honestly had a hard time deciding which ones to use for this quilt. The finish quilt measures 36″ x 40″ which, in my opinion is the perfect baby quilt pattern.
The quilt was quilted by the fabulous Melissa from Sew Shabby Quilting. I am in love with swirls. Check out this patchwork quilt she did for me a while ago.
I think I am going to hang this up in my daughter's room cause I can't stand to part with it and give it away.
Sorry for all the pictures. I just can't get enough of the colors!
Your Supplies
22 Fat Quarters of different colors
1 yard batting
1 yard cotton for backing
1 yard white cotton for background
4 yards of binding
Measure and Cut
Cut 22 rectangles of different colors at 6″ x 5″. If you are using charm packs, you can do 5″ x4″.
Cut 20 Dresden using the ruler. I did mine at the entire length of the ruler
Cut 1 circle at 4″ diameter for the center of the Dresden
Cut Center white at 23″ x 30″
Top and bottom white panel at 30″ x 5″
Two side white panel at 40″ x 2.5″
Sew
The first thing I made was my Dresden. I could show you how to do this but honestly I just followed this tutorial from Missouri Quilt Company. Watch it and you will understand each step.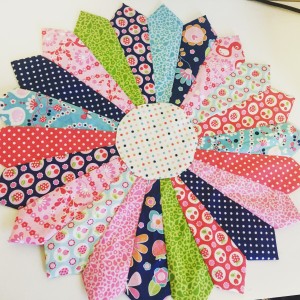 Next, take your Dresden and lay it on the bottom right of your white center cotton to the point where it right and bottom hangs off the white white fabric. Align it based on preference. Then, pin it and cut off the remaining. It will break your heart to cut it but it will all come together.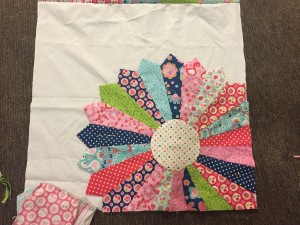 Next, you will sew 5 pieces of your colored rectangles right side together. Sew them on the longest side. Do 2 strips of 5 rectangles. One for the bottom and one for the top. Then, take that strip and sew it on the top and bottom pieces of your white center piece.
Next, take 6 of your colored strips and sew them right sides together on the short ends. Sew 2 strips of 6 rectangle, one for the right and left sides. Then, take those strips and sew them on the right and left sides of the quilt.
Next, sew your top and bottom white 5″ wide white strips on and then your right and left side 2.5″ strips on.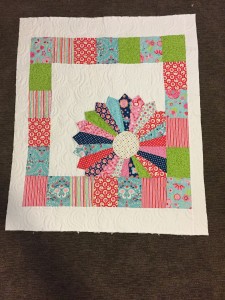 I did not take picture of the quilting but here are some from my Table Runner Tutorial.
You lay the batting in between the top and bottom pieces.
Next, you pin all over the top so that everything is stable.
Then, trim off your excess batting and back pieces.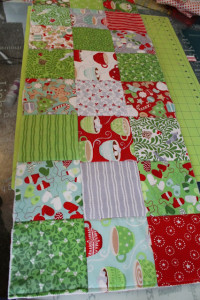 Lastly, you sew on your binding. I watching this tutorial on how to do binding from Missouri Quilt Company.
That's it!
Thanks for visiting and Happy Sewing!