Do you love to sew and want to share your projects with the world? Do you enjoy reading sewing blogs? Why not start a sewing blog? It's free to start and you can share your creativity, projects and ideas with others with the same interest. A year and half ago I ventured into the land of fabrics and sewing. I fell in love instantly with the hobby and was eager to share it with people. I started The Stitching Scientist sewing blog with a few of my first projects and the rest is history. I love getting feedback on my projects and to see my patterns come alive in the hands of others. Nothing is better as a sewing blogger than to see someone else trying something you shared and enjoying the process with you. So, how do you go about starting a sewing blog? This post will take you though the step by step process in getting started.
Things to do before you start:
Get a Google AdSense account. Even if your intentions are not to make money from your blog, I am sure you can all agree that monetizing your efforts cannot hurt. As you begin, you will not make much but as you post more projects and your blog becomes more popular, your pennies will turn into dollars. Setting up will take a few days and is easy.
Do a few projects and take step by step pictures either with your iPhone or your camera. It is important to have a few projects at hand ready to share before you start blogging. It will give your audience something to scroll through and have them stay longer on your site. You can start with easy projects like this burp cloth. Some of my first projects were done way before I started my blog and were either tutorials or just pictures to share.
Think of a name. Once you get your name, I don't recommend changing it. People get familiar with a name and when you change it, you change the identity and familiarity of your brand. So, during your brainstorming session for your name, make sure it's something that you love.
Buy your domain name. This is not necessary but highly recommended. If you purchase your domain name, then it's yours forever and no one else can use it. I like GoDaddy because it's super cheap ($.99) and they are always helpful on the phone if you have problems.
Now that you have your name and a few projects, it's time to build the blog.
Choose your publishing platform and host: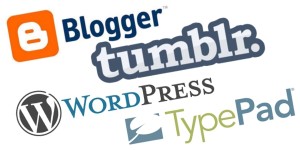 If you don't want to spend any money, I recommend you start with Blogger. This is a free service offered by Google to get you started. It is extremely simple. This is how I started off and it really helped me understand layout design, placements, posting structure etc.  Once you are familiar with how it all works and you have a bit more money, you can move onto another site. Blogger will host your site for free for as long as you want with very few restrictions.
You can also use WordPress.com. You can have one free site with WordPress. This service does have restrictions. It doesn't allow monetizing, ecommerce or video storage. It, however, does offer upgrades which you can pay for as you learn and decide what you want for your blog. Blogger does not offer upgrades but it doesn't have as many restrictions as the free version of WordPress.com.
If you have about $20 to spend, use WordPress.org. This is what the top blogs use. There aren't any restrictions that I can think off and it gives you the freedom to do with your blog as you see fit. You can read about the differences between WordPress.org and WordPress.com here and decide what's best for you. I started out with Blogger for a year then moved over to WordPress.org later.
There are off course tons of other platforms to use. These are the ones I am familiar with and feel I can share with you. Here is a link of others you may want to check out.
If you use WordPress.org, then you will need a host. I am not that experienced with hosting sites but I love GoDaddy. For about $80 a year, they host my site and are always there to answer my questions.
Design your template:
This is where the fun begins! If you are using Blogger, they take you through a step by step process in designing your blog detailing template choices, ad placements, social media sharing etc. It is awesome for beginners. If you using WordPress (either .com or .org), then you will need a touch more experience but certainly nothing you cannot handle. They have plugins and tons of other features to help you navigate your way!
I used a service called Blogelina to help design my WordPress.org site since it was a bit over my head. I did however do Blogger all by myself, so trust me, If I can do it, so can you.
Personally, I think the best layout is to have your main content and one side bar on the side to make the template look less cluttered. The easier your content is to read, the better it will be for your audience. You don't want to fill your page with tons of ads and widgets. Make it as simple as possible. I like to pick a blog that I like and then try to do my template as close as I can to that pattern. There is nothing wrong with choosing the same colors and layout as another blog. So, choose a blog that you love and go for it. Just remember to never copy content!! Heck, feel free to copy my layout if you like it.
Set up social media accounts:
It's time to set up all of your social media accounts; Facebook, Pinterest, Instagram, Google +, Twitter etc. When you set these accounts up, do not use your personal profile information. Ensure you use your blog name so that everything you share goes under your blog. There are pluggins that can help you get the social media logos or you can use an image linker to make it look pretty. There are tons of sites that offer free images for icons. Choose ones that are crafty and represent your site content. I love crafty ones.
Add content:
Now that you have your layout all set up, it's time to add your content. Take the projects that you took pictures of earlier and add it to your blog into different posts so that when launch, it will look like you have been blogging for a while with a few posts already started. Plan on having at least 5 posts featuring 5 projects. It's  best to have the posts in different categories. For example, do a burp cloth for baby category, maybe a skirt for kids and then maybe a purse for women. This will really make your blog look legit.
Remember to make your blog a bit personal to get followers to connect with you.
Publish!
Your blog is now ready to be published! Share each of your post across all social media avenues. A great place to share tutorials for the sewing enthusiast is Craft Gossip. Remember, you won't get thousands of followers on your first day. It will take some time and lots of context to get viewers but keep at it. I did a post a long time ago on how to get followers to your blog. Take read. Maybe it will help.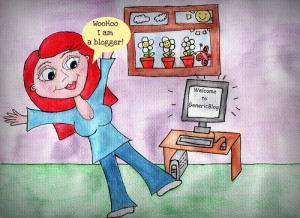 It took me about 2 weeks from logging into Blogger to publishing my first sewing project. I learned a lot about coding,  about image placements, giving instructions on projects, layouts and much more. It may take you less time or longer but don't be discouraged. There are tons of resources out there to help new bloggers.
If you have great content, you will get visitors and they will return for more. The entire blogging experience has been really rewarding to me. I enjoy the visits, the comments and the support from the sewing community. I try to make each post somewhat personal so that others can relate. Don't be afraid to make mistakes! We all do and no one is perfect. There are trolls out there that will be negative and try to bring your down but don't let them get to you. Make your blog exactly what you want it to be and have fun along the way!
If there is any way I can help, just ask. I am not an expert by any means but I can help with what I know or forward you to someone that knows much more than me.
Thanks for visiting and as always happy sewing!