As you all know from my projects, I like doing quick simple creations that I can enjoy in a few  hours. I admire quilters that take an hour to do a block and weeks to finish a top. I just don't have that type of patience. I wish I did.  This quilt top is a super simple patchwork pattern using the stunning Home for the Holidays collection from Riley Blake Designs. The final size of the top is ~50×72″. It's the perfect size for a winter throw or for a twin bed. I love how bright and cheerful the colors in this collection standout. The collection can be used for any Christmas theme project.
I took this picture as the sun was raising one morning. I love how it came out. The pattern uses 15 fat quarters which are each cut into different sizes of triangles and squares to create a medley of different sized shapes throughout the top.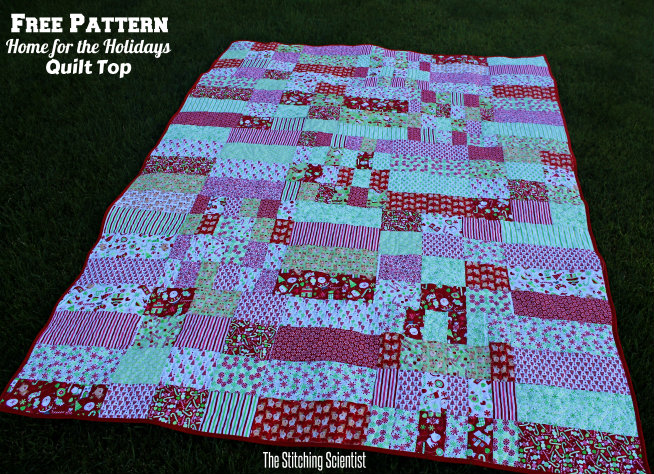 I had Melissa from Sew Shabby Quilting do a pretty holly design at the back. I have to say, I was stunned at how pretty the pattern looked on the back. I used a twin size white bed sheet for the back. It was cheaper than buying fabric.
To bind it, I used a red single fold bias tape all around. I think it took about 9 yards of tape for the entire quilt. I also did machine binding which is way quicker than hand binding.
Here is a closeup of the front. You can see how festive this collection is. There are candy canes, snowflakes, bears, Christmas trees, Santa; a little bit of everything to get you in the Christmas mood.

Your Supplies
For this quilt top pattern, you need 15 assorted Fat Quarters from the Home for the Holidays Collection.
The pattern, layout and tutorial can be found HERE.
If you want to make a bigger size than 50″x70″, then you can use more fat quarters and follow the same design by simply cutting more pieces. Please share your quilt if you use the pattern.
Thanks for visiting and happy sewing,