I have never been a dress person. I love skirts but dresses just seem a bit too formal for me. However, I have been seeing a lot of these maxi dresses this spring and was tempted to make and try one this weekend. I ended up liking it and plan on making a few more this summer. The tube top makes the dress feel very casual. The length can also be adjusted to be knee length or mid-calf. I have actually never worn an ankle length dress. This was my first and I have to say, it takes some getting used to but I am loving it. This project took me about 30 minutes. It was super simple to make. It is similar to the Girl's Knit Tube Dress I did for my daughter last week. I hope you guys like the tutorial!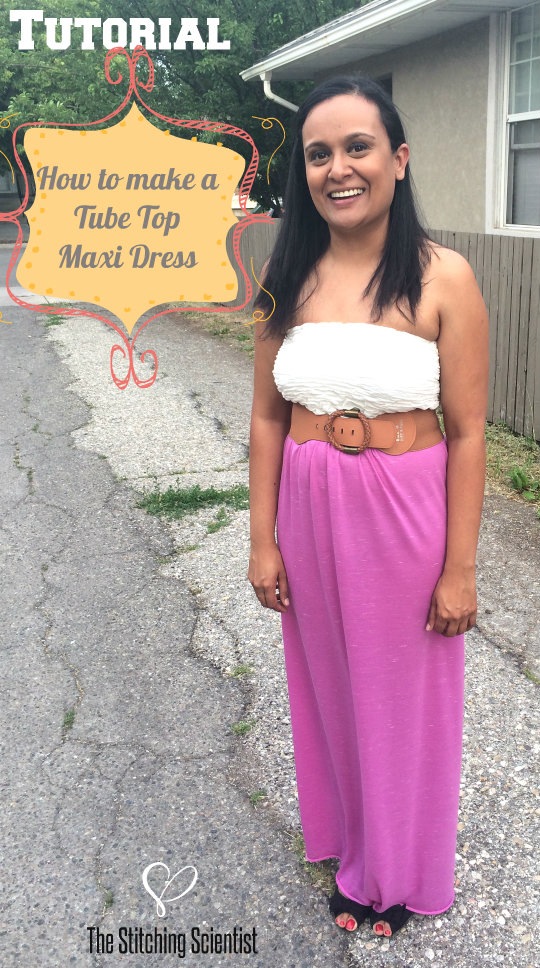 I accented the waist of the dress with a broad belt which complimented the fabric pretty well. The fabric used for the top is a popcorn knit for the top and regular jersey knit cotton for the bottom. I get the best deals on my knits from Girl Charlee. I really like the gathered look of the popcorn knit on the tube. I don't think that's the right name for the knit used on the tube but visually it looks like popcorn fabric:-). You can use any type of medium weight stretch knit.
This picture didn't turn out too well but I like that it gives a full distant view of the dress. As you can see, I tried not to make my dress really full. From experience, the fuller I make my dresss, the fatter they make me look:-), so I tried to make the bottom long and narrow on this one. I also like that the length completely covers my feet. It makes it look a bit more elegant.
Well, there you have it! I hope you guys get a chance to whip up some of these adorable maxi's  this summer. Mine is great addition to my closet!
You Supplies
1/4 yard medium weight knit for the tube
1 and half yards jersey knit for the bottom
At least 40″ 1″ wide elastic.
Measurements
Tube top: measure under armpit to armpit right above your breast. Take that number and subtract 3″. My measurement was 34″-3=31″. That's the length of the fabric. To get the width, measure from under your armpit to the bottom of your breast. Mine was 8″. So my tube top knit was 8″x31″
Elastic: take your tube top measurement from above and subtract 2.5″. Mine was 28.5″.
Bottom: Measure from under your breast to the bottom of your heels. That's your length (mine was 42″). To get your width, measure all the way around under your breast and add 15″ (mine was 43″). You can add more if you want the dress to be fuller than mine. So, my measurement for  my bottom was 43″x42″.
Let's get started!
Take your tube top piece, fold in half and sew using about 1/2-1″ seam allowance.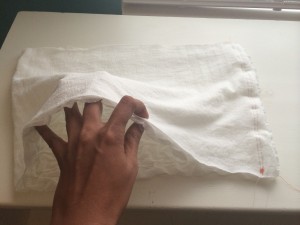 Next, fold the top part of the tube down about 1.5″ and sew all the way around leaving about 2″ open.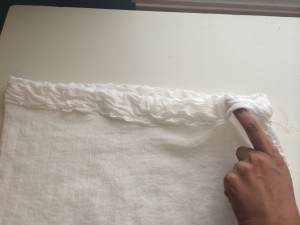 Thread your elastic through the opening using a large pin.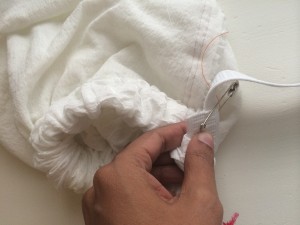 Sew the two elastic pieces together and sew the opening close.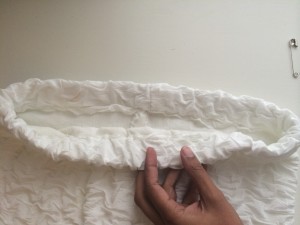 Here is your tube:
Now for the bottom!
Sew the two top ends of the bottom piece together.
Using the longest stitch length on your machine, sew all the way around the top part of your bottom piece. Pull your bobbin elastic to gather the top. Fit in the tube into the bottom piece, right sides together. Pin and sew using about 1/2-1″ seam allowance.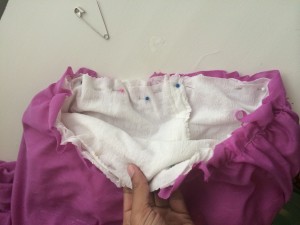 That's it! Accent with a nice belt and you are ready to show off your new creation.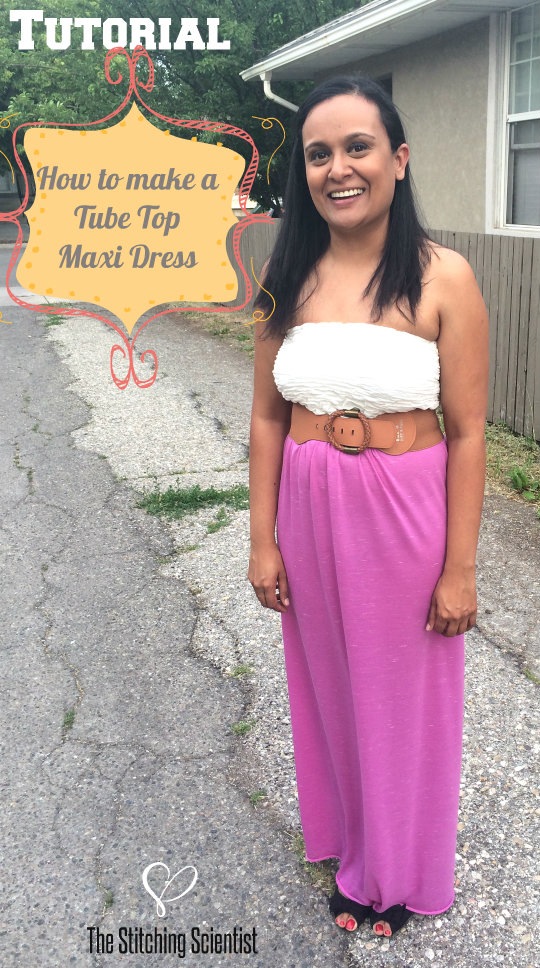 Thanks for visiting and Happy Sewing!