Happy Spring Everyone! It's time so get out those pretty colorful fabrics that you have been storing or eyeing all winter and start making some skirts. I have a few full circle skirts in my closet that I rarely wear because they are a bit too full. I think they work well for certain people but for my body type, circle skirts make me feel and look bigger than I care to appear. I like the half circle skirt pattern because it is less full and accents my body shape better. The overall style is less subtle than the full circle skirt.
For this tutorial I used a rayon cotton blend fabric. With the flowing nature of the half circle skirt, I think soft fabrics work best. The pattern gives the skirt a natural twirl which is hard to get with regular weight cotton without having a bulky appearance. Knit fabrics should work well for this pattern as well. This pattern also has a natural waist wide elastic band which is easy to sew and looks like a normal interfaced band but without the zipper. I hope you enjoy the tutorial.
The side and the back has a nice amount of bounce and twirl without looking too bulky like the full circle skirt. I also like the knee length. It works perfectly for work or a date night.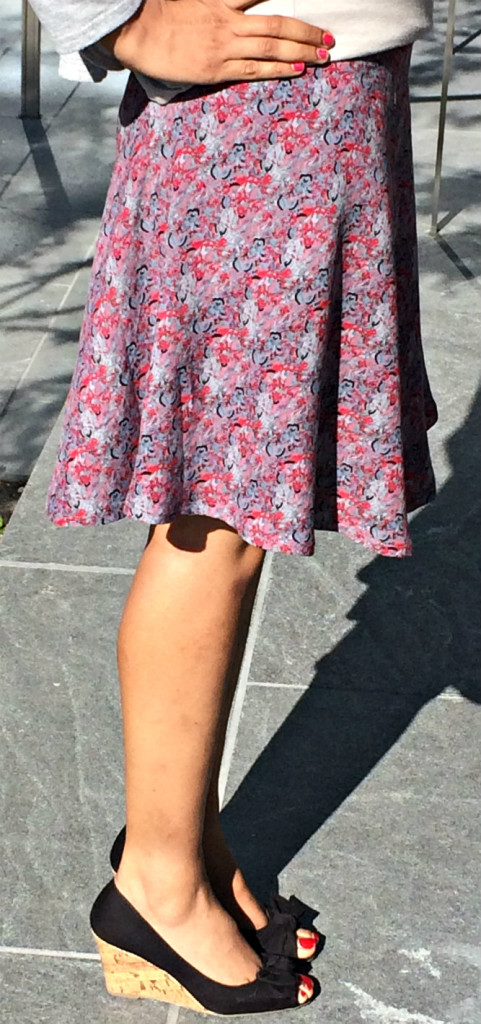 Your Supplies
1-2 yards of rayon, knit or light cotton fabric
1.5″ wide elastic x waist measurement long
There is a bit of math involved in getting the correct measurements but I promise its super easy. You need two measurements; l for the length minus 2″ since you will be making a waist band and r which is the radius. I wanted my length to be 20″ so my l was 18″ and my waist was 33″ so my r calculated at  10.5″. See the diagram below on how to calculate and cut on your fabric. Remember to fold your fabric in half when you cut.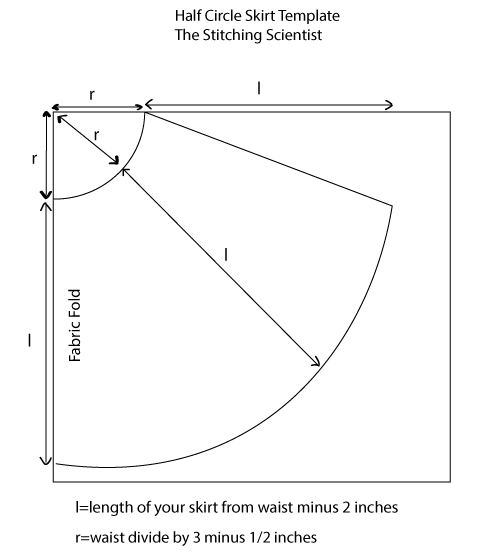 Here is what your folded pattern will look like after you cut it.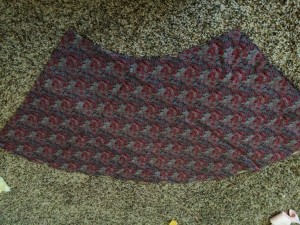 Open it up and hem the bottom. I like doing a 1/4″ fold and then another 1/2″ fold at the bottom.
Lets now make the band. Cut a piece of fabric 3.5″ wide by waist measurement long.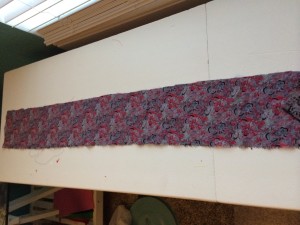 Fold in half and iron.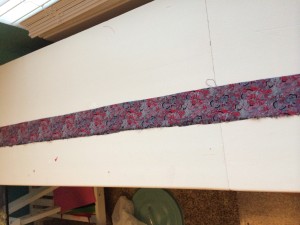 Sew the folded band to the waist of your skirt right sides together. Serge or zig-zag the ends.
Using a pin, thread your elastic through the band.
Next, you will sew the sides of the skirt right sides together all the way up through the band. Sew a few additional stitches on the band so that the elastic is nice and tight.
Iron down the band neatly. (sorry this image is upside down).
That's it, you are done!
 Thank you and happy sewing!