I am so excited to be part of the Christmas in July Series hosted by So Sew Easy this year! I feel honored to be part of this series with all these talented creative Crafters.
  For this series I wanted to do something simple that a child can make with her parent or a beginner can do as gifts without being too intimidated. I love doves and I really think they add a spiritual touch to the holiday season. This all white dove can be made with white or ivory felt or regular cotton or knit fabric. You can also make the wing a different color than the body to brighten up your tree.  I  hand stitched mine for a more personal touch but regular machine stitching will work too. You can download your free pattern HERE. You can scale the pattern up or down based on the size you want. At 100% the dove is about 3.5″ long.
Your supplies
1 piece white felt
4″ ribbon
black sharpie
Instructions
Cut 2 pieces of the dove pattern and 1 piece of the wing.
Fold your ribbon in half and pin in between the two dove pieces. Draw a dot using your sharpie for the eye.
Hand stitch all around the dove.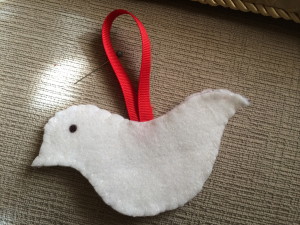 Hand stitch the wing on the side of the dove.
That's it!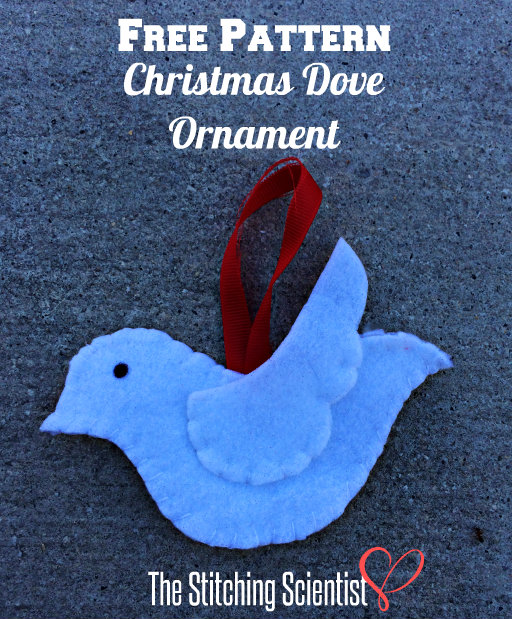 Thank you so much to Deby for putting this series together. Here is  a beautiful felt tree done by Deby at So Sew Easy. This was such a clever idea and Deby makes it look so simple to make. It also looks like a cool project for my daughter and I to do together this Christmas.  I am definitely doing to me a few of these this year as Christmas gifts.
Thanks for visiting and Happy Sewing,