I have no idea why but I have been into bags lately. Here is another curvy one I did this weekend. This tutorial is the same as my Oval Messenger Bag. The pattern is similar with the side overlays curving outwards instead of inwards as with the oval bag. I also added a top zipper which is optional. I left the bag without a closure but I think a magnetic snap or Velcro will work.
The fabric used for the main part of the bag is Macrina Busato Handmade found at Fabricworm. I fell in love with this fabric and knew I had to buy some for a small project. Its accented with a polkadot deep blue fabric on the side. I hope you guys enjoy the free pattern.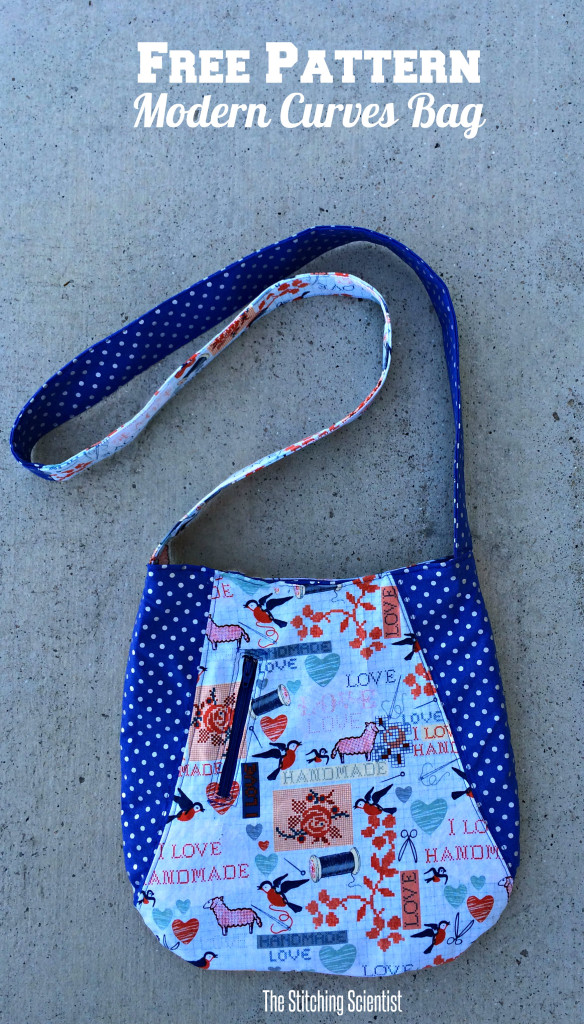 I decided to use both fabrics on the straps. I love how it turned out.
This was my first time adding a top zipper so it looks kinda sloppy. I hope yours come out better than mine.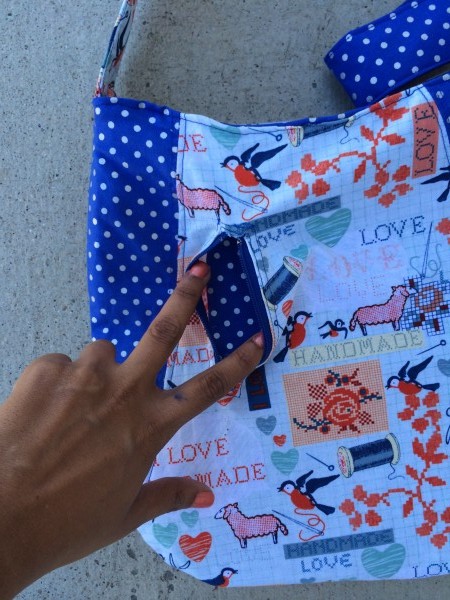 Aren't you just loving this handmade fabric! Look how pretty it looks on the back.
There you have it!
 Your Supplies
1/2 yard secondary fabric
1/2 yard main fabric
1/2 yard fleece interfacing
4″ zipper
Print out the pattern HERE. Please read instructions on the pattern on how many pieces to cut. You can scale it based on your size preference. At 100% it is about 15″ high about 10″ wide.
Let's start with the top zipper first. This was my first time doing this so if you know of a better way, please go ahead and do that instead of my way. The zipper goes on the side of the main center overlay.
Sew all the way around the zipper  with the top of the zipper facing up towards the right side of the main fabric.
Next, cut in the middle of the zipper and make small slits on the side of your zipper.
Fold in the fabric all around the zipper and sew all the way around.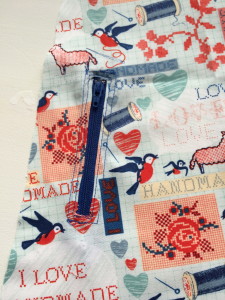 Now, take your lining center overlay and baste stitch all the way around your main overlay right side to wrong side.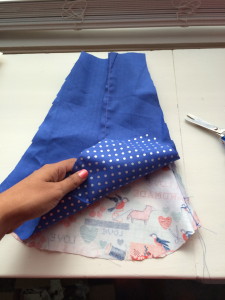 Now, sew the side overlay pieces on both sides of your main overlay. You have now finished the front of your bag.
After you iron your front piece. It will be slightly smaller than your back pieces. Align your front to your back pieces and trim your back pieces to match the front.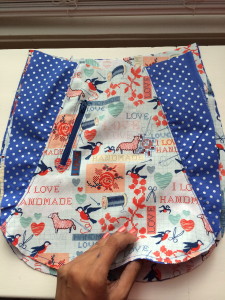 Next, iron on your fleece interfacing to the wrong sides of both your lining pieces. Sew your lining and main pieces together, right sides together.
Next fit your lining into your main bag with right sides facing each other.
Sew all around the top leaving 4″ open.
Turn the bag inside out and top stitch all the way around the top.
To add straps, see the tutorial from the Oval Messenger Bag.
There you have it! Enjoy your bag.
Thanks for visiting and happy sewing,