I finally decided to give away my beloved Brothers Innov-is 40 after 7 long years of friendship and service to a dear friend. This was my first sewing machine and worked perfectly for me through all my sewing adventures. In this post, I am summarizing some of my favorite and best beginner sewing machine on the market. Over the years, I have attended many quilting, conferences, pattern making and technique classes which allowed the pleasure of trying out some of these machines. I hope this list helps you choose the perfect machine for your needs.
Top things to look for in a beginner sewing machine
Top loading bobbin-you want to be able to see when your bobbin thread is about to finish. Also, I found that top loading bobbin in way easier to work with than front loading. I am normally a clutz and the front loading bobbin requires a bit too much work for me.
Reverse stitch button/lever– This is very important to reinforce your stitches when you sew. I think having a reverse button is easiest but a lever works just as good.
Manual tension– this is up for debate but I have worked with machines that has automatic tension only and it sucked! The machine rarely got the tension right. At least for the manual tension, you can mess around with it until you get it right. Get a machine that has either manual or both so that you can choose your tension options.
Ability for feed-dog to disengage– this is important especially if you want to free motion quilting.
Speed control-If you are a beginner, I really recommend getting a machine that can help you control the speed. When I first started, I had not idea how to control the speed with my presser foot. It really helped to have a preset function.
Cheap but durable– if you a beginner, there is a chance you may love sewing or hate it. Don't spend too much money on your first sewing machine just in case you decide sewing is not for you. On the other hand, you don't want something totally made of plastic that will cause sewing frustrations. The majority of beginners quit sewing because of nuances with their sewing machine.
First, let me say I highly recommend my Brothers Innov-is 40 as a beginner sewing machine. However, it is a tad bit on the pricey side ($400) and so I won't be putting in on the list. Also, it can only be purchased from a dealer. By the way, I received it as a 30th birthday present. I would never spend that much money on a potential hobby.
Best Beginner Sewing Machine
5. Singer Heavy-Duty 4411-$125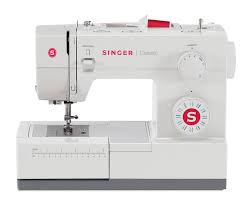 I actually tried this machine at a quilting class I went to a few years ago and was amazed at how simple it was to operate. It feels more substantial that my Brothers one and comes with everything you need. Trust me you don't need the 100 stitches that comes with other machines. You will pretty much just use about 3 types of stitches on average. I like the metal plate on the machine as it helps keep the bobbin from shaking around when you sew. It feels solid and works great. It does not have speed control setting but for $125, you really cannot get a better machine.

This machine has the most rating and is very popular. I have been to many technique classes at sewing shops where they use this as their teaching machine. It comes with a ton of stitches, most of which you will never use. However, what I love about this machine is that it is computerized and pre-adjusts stitch lengths for you based on the type of stitch you are using. That feature alone is worth the money in my opinion. If you are new to sewing, understanding stitch length may not be what you want to spend your time doing. This machine does that for you and more. It also has a button for reverse stitches and for lifting your needle up. Better yet, there is speed control. You definitely cannot go wrong with this machine. My one issue with it is that it feels very flimsy so it may not last as long as some of the heftier ones.
This one is very similar to the Brothers CS6000i but feels a bit sturdier. It also comes with many more stitches. Again, I honestly don't think you need that many stitches but it's good to have. I actually use this machine to do a buttonhole and it was flawless! If you plan on sewing garments, you should get this one. It is a bit pricier than most beginner sewing machines but I think all the automatic computerized features are so worth it. Also, if you plan on doing decorative stitches, this is best. It has a ton of pretty stitches to accent your project or do embroidery work. This sewing machine also automatically the stitch length, width and tension for you as well as give you the option to change it.
I had the pleasure of trying out this machine at a sewing conference last year and was so impressed at how sturdy and solid it felt. It is mechanical and certainly does not come with all the bells and whistles as some of the other beginner sewing machines but this has all that you need and seems like it is made to last a very long time. It has a clear top loading bobbin so you can see when you need a refill. It has a reverse lever to reinforce stitches. And, it has manual tension so that you can mess around with the tension to see what works best for the type of fabric you are using. There is also the Janome 2212 that is very similar but it has a front loading bobbin which, in my opinion, is not as beginner friendly. Other versions of this machine includes the MOD-19, MOD-11, MOD-50; the latter number represents number of stitches.
Here is it is friends; my new Magnolia and my recommendation for best beginner sewing machine. It is a bit pricier than most at $279 but that extra $100 spent is so worth it in my opinion. This comes with 18 stitches and has a good blend of standard and decorative options. The bobbin in on the top covered by a clear top so you can see your bobbin fullness. It is really easy to thread both naturally and automatically. The feed-dog can be disengaged for quilting. You do have manually adjust tension and stitch length but this is easily learned. The machine also does really well on heavy and super thin silky materials. It seems really strong and comes backed by a stellar warranty. I have heard from many other sewist that Janome is very good at standing by their warranty. Personally, I went with this mechanical machine instead of a computerized one because I like the durability of mechanical machines. Less things tend to go wrong with mechanical versions. Since I plan to keep this baby for a long time, I did want it to outlive my next 10 years of sewing adventures.
Thanks for visiting and Happy Sewing!