I finally got the opportunity to make the Little Geranium Dress from Made by Rae. I have been meaning to make this for a while now after seeing all the beautiful ones showcased on social media. I decided to try the free pattern which comes in size 0-3 months for my friend who is having a baby girl. I love making baby clothes. The pieces are so tiny that the projects can usually be made in under an hour. This one literally took me about 40 minutes to make.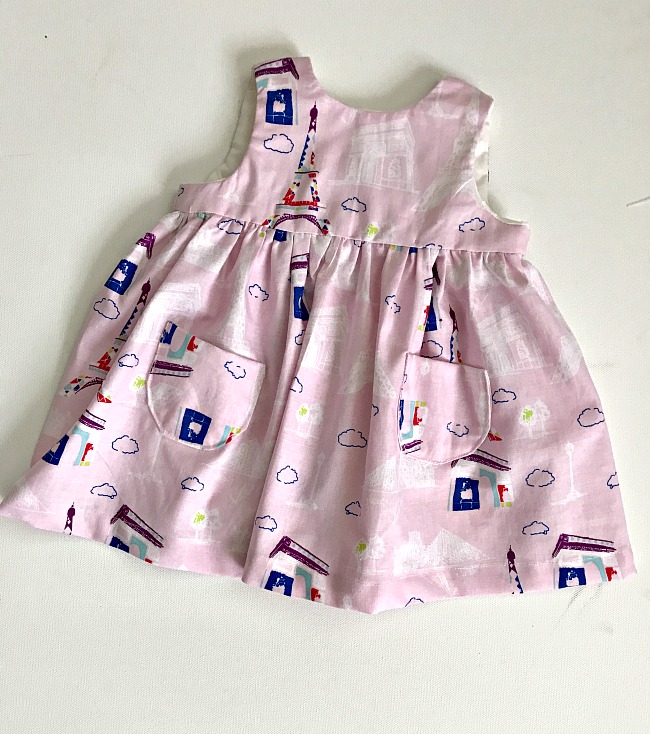 This fabric is from Riley Blake's Pepe in Paris Collection in Main Pink pattern. I got this from Etsy which is my go to for specific fabrics that are not normally found in stores.
My friend is from France and though I know it seems corny, I wanted to make her baby a dress inspired by Paris. After looking and looking, this was my favorite find. I think the line may be discontinued or sold out so I was happy to find some on Etsy.
For this dress, I did a lined bodice to make the dress neater looking. I learned a new technique while making this dress which was to hide the raw edges of the skirt into the lining. Thanks to Rae for sharing her skills with me. Now, I will never have to zig-zag stitch my skirt pieces.
The Little Geranium Dress pattern comes in lots of other variations. There are ones with sleeves, collars, bows, zippers etc. If you haven't made this dress yet for that special little lady in your life, you definitely need to! I think I will make one for my daughter for her school pictures this year. I think I maybe I will do a red collar against a checkered blue main fabric with the puff sleeve.
I think my friend will love this little piece. Can't wait to give it to her.