Hello Beautiful People! It seems like forever since I have released a new pattern. The summer has been so busy! I managed to squeeze sometime in my sewing room this weekend to create this Vera Bradley Inspired DIY Carryon Duffel Bag. I don't know about you but I love Vera Bradley bags. However, I can never afford them unless they are on sale. The carry on duffel bags run close to $80! This one cost me about $40 to make. I have been meaning to create one for a while now but just got the time. This bag takes a while to make. It will take about 4 hours with bathroom and snack breaks. It is also huge, measuring a whooping 19″ wide x 15″ high x 10″ deep. It comes with an open side pocket, a zipper front pocket and beautiful accented straps. The measurements works perfectly for the carry on bin in the airplane. This one will sure be a conversation piece at the waiting gate for your next flight.
How gorgeous are these colors on this fabric! One of the main things I love about Vera Bradley bags is the floral fabrics. It's her signature design and so eye catching. I chose this fabric combination because it really reminded me of her bags. I got this combo from my local Joanns Fabric Store. I am not so sure about the bottom accent. I think it would have looked better without the pink. Oh well, I still love it!
I decided to add a simple zipper on top with a gusset design. Having the gusset really opens up the bag and makes it wider with more depth. I was thinking about also adding side straps but I forgot to add them. Bummer, next time for sure.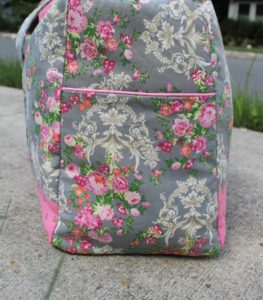 I decided to add a zipper pocket to the front of the bag. It's a must for airport travels to stash your phone, boarding pass etc. The side pockets are really deep and can hold your bottled water after you check in. I only added one side pocket since I was in a rush.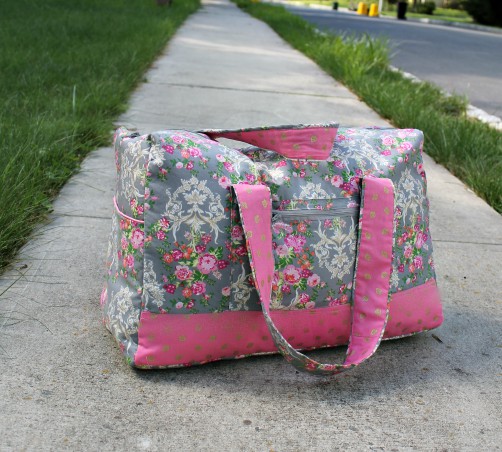 How pretty are these straps! Gold and pink! You really cannot beat that combination. When I found this fabric, I knew it would be such a cool accent to the straps. The straps are pretty long about 15″ so they fit nicely on your shoulders for easy lifting while you walk.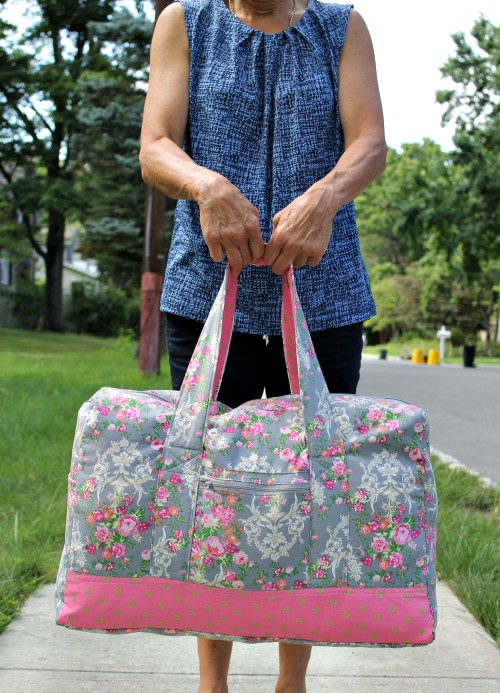 Here is my neighbor modeling the bag for me to show you how big it is. She then stole it from me for next strip to Myrtle Beach.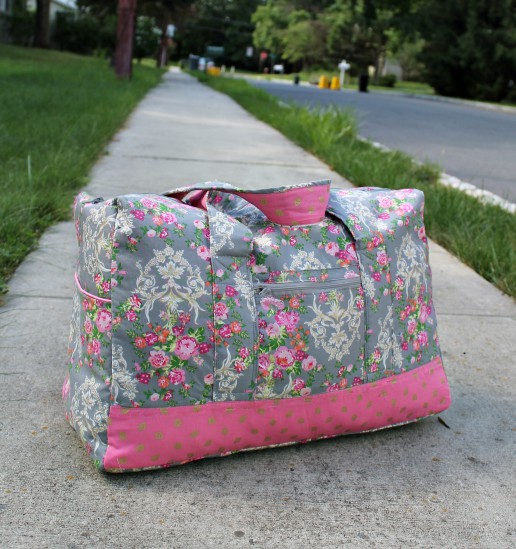 I really hope you guys make this one. It is so beautiful and is perfect as a carry on bag for your next weekend getaway.
Thanks for visiting and Happy Sewing