I can finally add myself to the list of people who have finish the fabulous Scrappy Trips Around the World! This quilt pattern from Quiltville is by far my favorite sewing project to date. I cannot explain to you the type of satisfaction that comes from finishing a project like this. I swear I have sat and admired it over and over. I am planning on hanging mine up to display it! Surprisingly, the quilt top only took about 5 hours to make. I was honestly expecting it to take months. I started on a Friday night and by mid-day Sunday, my top was done! I am loving the color combinations. For this quilt, I cheated and used two jelly rolls instead of scraps of Miss Kate and April Showers fabric, both from Bonnie and Camille. I had left over fabric which I used for a postage stamp quilt (stay tuned).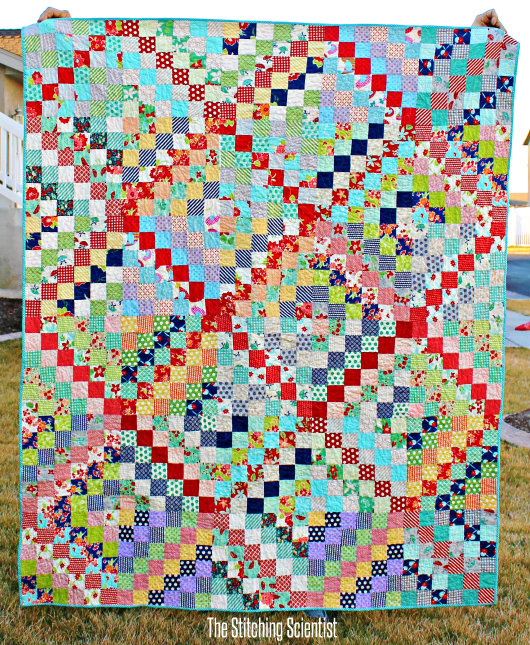 The jelly rolls that I used had a lot of red strips so I decided to have the red be the focus in the diamond shapes. I think it really makes all the others stand out. With 2 jelly rolls, the quilt ended up measuring about 50″ x 60″. It's a decent size throw.
I ended up using a twin size bed sheet I found at Target for $12 for the backing. I was surprised at how well the colors matched the quilt. For the binding, I used 3/4″ premade binding I got from Ebay. The turquoise dots really works well with the sheet.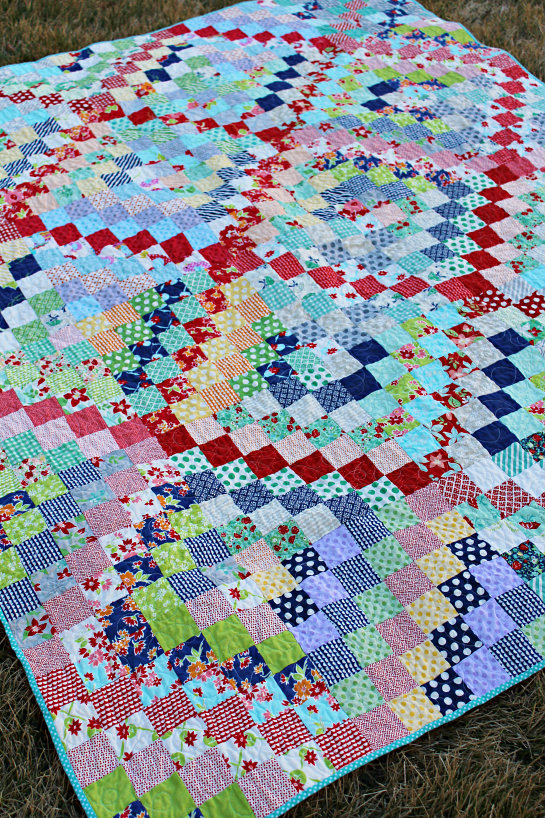 I have  used Miss Kate from B&C before and fell in love with the patterns and colors, so I knew it would work well for this scrappy quilt. The beautiful quilting was done by the amazing Melissa from Sew Shabby Quilting. I think she did a loop pattern to bring out the texture on the top.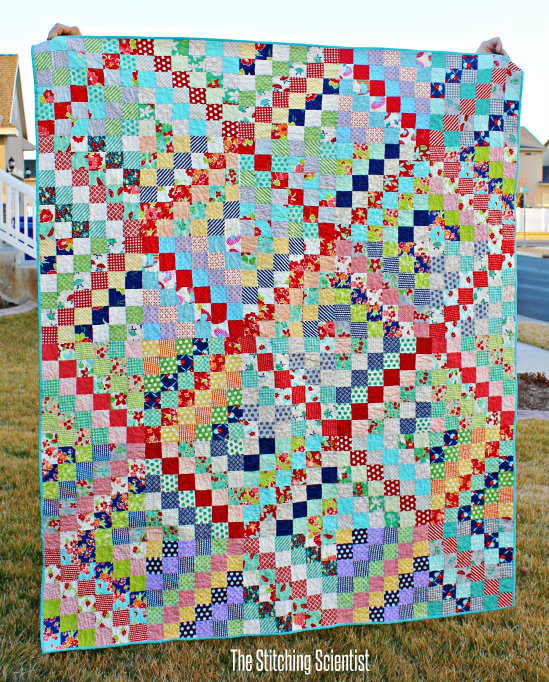 I am so in love with this project!! Hope you guys get a chance to make your own. Again, check out the free pattern from Quiltville.
Thanks for visiting and Happy Sewing.