Hi Everyone! I am so excited to be part of Lucy Blaire's Lucky Girl Dress Blog Tour. When Lucy contacted me to see if I wanted to be part of this event, I knew I had to say yes. I am in love with this pattern. As a beginner sewer, there are two things that intimidate me; sleeves and hoods! Well, I have to say, I conquered my fears with this pattern. I learned so much making this dress and I am so proud of how it came out. My little Mila loves hers and I am sure your little one will too. The fabric used for this review is Riley Blake Designs Wildflower Hedgehogs. The Lucky Girl dress comes in sizes 12M to 6T. Mila is wearing the dress in size 3T. I did a pattern hack by doing 3/4 sleeves on the dress instead of full length. It is surprisingly warm in the Midwest and I wanted my daughter to enjoy the dress in the spring as well, so the 3/4 sleeve makes it less warm for her.
The entire dress took me about 2 hours from cutting the pattern to hemming the bottom. It was a surprisingly simple dress to make, with the directions very clearly written. As a beginner, I cannot sew without pictures so having clear illustrations was a definite plus for me. I actually mainly looked at the pictures instead of reading the instructions when making the dress. I don't like patterns where I have to read and read and try to figure out my next steps. This dress was quite the opposite of that and made the sewing process a lot more enjoyable. The top of the dress mimics that of a peasant pattern with a double lined hood. The sleeves are long and has bands on the bottom to give it a sweater-like finish. The bottom is a circle skirt that attaches to the top at the waist.
Like I said earlier, I was a bit intimidated by the hood. Prior to this dress, I never did hoods simply because I thought I couldn't:-). Lucy's instructions were so easy to follow, I did it in one shot without seam ripping!!:-) I think the hardest thing was hemming the bottom circle skirt which had nothing to do with the pattern. It's just not my favorite thing.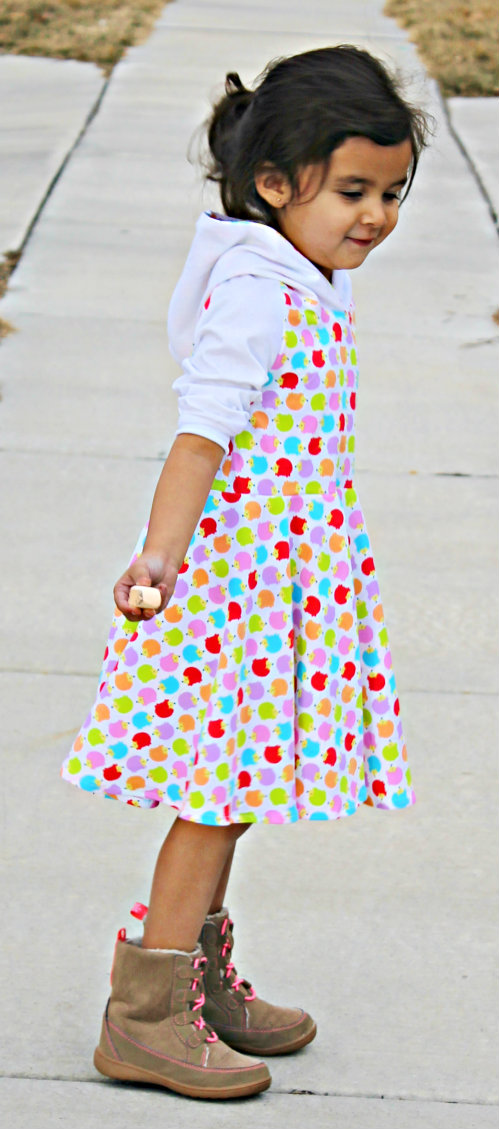 I did a pattern hack by doing 3/4 sleeve to make the dress wearable during spring months. My daughter decided she would pull it up above her elbow which ended up looking pretty cute. For my 3T toddler, the length of the dress fit just right. She is actually in between sizes right now (3T-4T).
Here she is just being silly. I am honestly loving this hedgehog knit pattern fabric from Riley Blake. I wanted to use an aqua blue for the contrast but ended up going with white which I think works really well.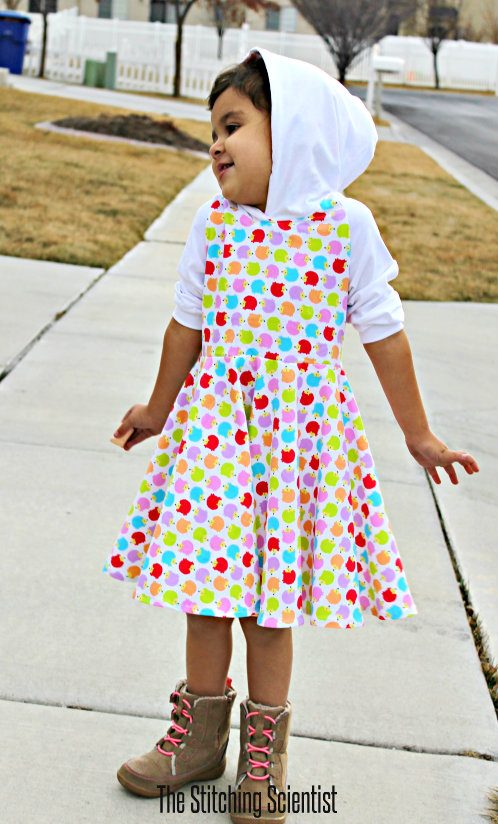 Lucy Blaire's Lucky Girl Dress Tour continues until February 27th. Here is the lineup.
5th: Melissa (Sew Like MyMom)
6th: Remona (The StitchingScientist)— That's me:-)
12th: Amanda (Jedi CraftGirl)
13th: Becca Duval (Kate Photography)
19th: Ren Murphy (TheInspired Wren)
20th: Maryam (Hi and Hello)
25th: Jen (Lea and Lars)
26th: Julia Frazier (Riley Blake)
27th: Lucy Blaire
Giveaway
Lucy is giving away 2 yards of Aztec Black knit and 1 yard of Aqua Solid knit from Riley Blake and a free copy of the Lucky Girl Dress pattern. If you purchased the Lucky Girl dress pattern already, she is letting you choose a free pattern from her store. Enter in this giveaway by signing up for Lucy Blaire's newsletter below. It ends midnight of February 26th, so make sure you get your name in the pot.

Enter Giveaway Here
Thank you all for visiting and happy sewing!