My neighbor is having a baby girl in a few days and I have been meaning to make her a gift for months now. Well, as usual I am down to the wire so my big quilt idea wasn't going to happen. I decided to make her a pretty little baby blanket that works perfectly for the cold winter months. I checked out Etsy and found these blankets for about $50 each! Wowzee!! Can you imagine paying that much for a blanket when you can make one for under $15. Yep that's right this blanket cost me about $10 to make. I bought 1 yard each of cuddle (really soft, fluffy fabric) and flannel fabric from Walmart. If you are close to a Joanns, you can use your 40% off coupon if cuddle fabric is expensive there. I know I got mine from Walmart and it was about $6 per yard. Cuddle fabric comes in wide width so 1 yard should definitely do for this project with tons of left over.  Flannel is pretty cheap. Even fabric stores sell a yard for about $3-4.  Instead of flannel, you can use cotton from your fabric stash at home. This blanket turned out to be about 30″ x 36″; the perfect size for a newborn. My blanket took me about 15 minutes to sew, which is about all I can spare these days:-). Learn how to sew a simple baby blanket with this easy tutorial.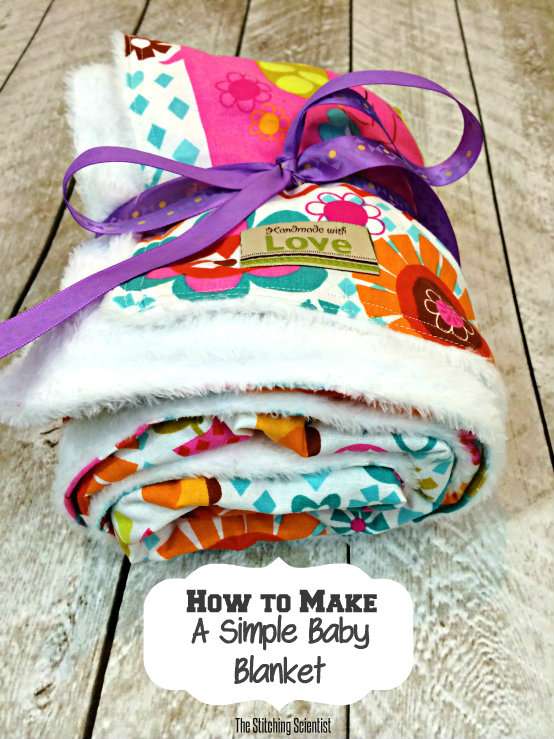 Doesn't that look like a gorgeous baby present wrapped up with some cute ribbon? I added an iron on "handmade" label to make it extra special.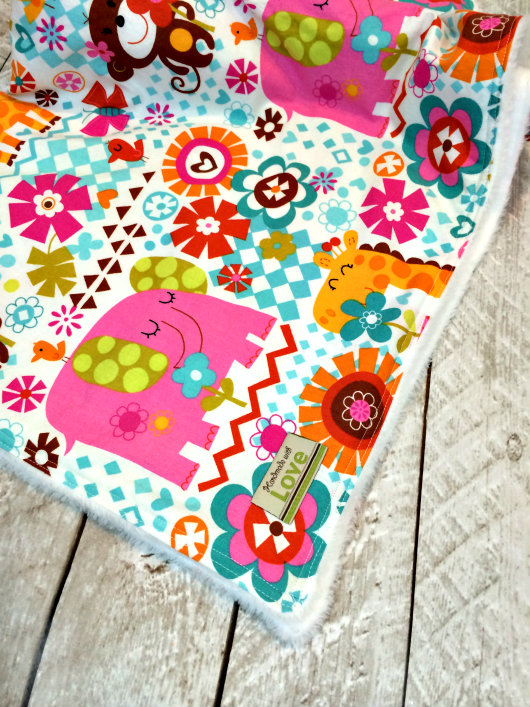 How vibrant is this pink elephant flannel fabric? I decided to do a double top-stitch all the way around to make the blanket look a bit neater.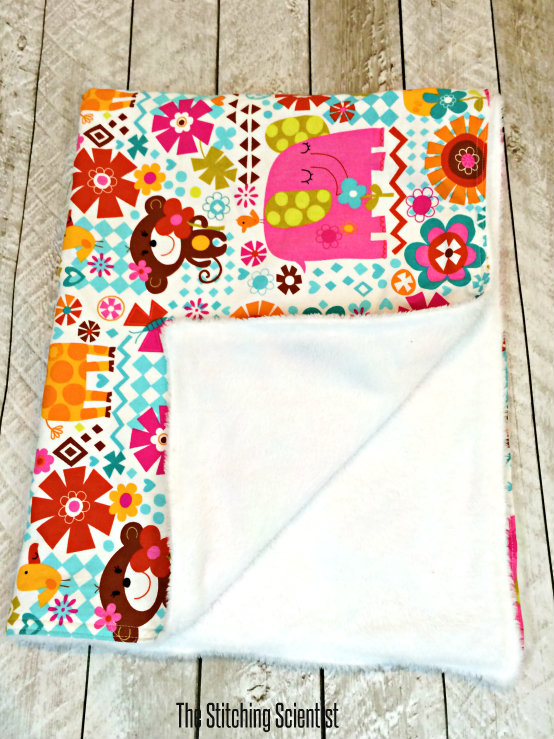 Your Supplies
1  yard cuddle fabric (any weight will do). Mine was very low pile but still super soft. This comes in wide width, so you may not need that much fabric.
1 yard flannel of cotton
Optional-iron on tag.
Remember to wash and dry your cotton or flannel before you start your project to avoid shrinkage. My blanket measured about 30′ x 36″ which is what a yard will give you.
For this tutorial, I am doing just a simple picture tutorial for you since the project can be done in 3 steps, taking less than 20 minutes. The picture below says 30 x 40 " but please do 30 x 36″ if you are not using wide width fabric. Hope you guys enjoy the tutorial!
Thanks for visiting.